It's False
Scrapple



Since: 20.6.02
From: I am the Tag Team Champions!

Since last post: 64 days
Last activity: 2 days

#1 Posted on | Instant Rating: 4.82
First thing to note is...yes, this is indeed the official continuation of Angel. Bryan Lynch is writing, but Joss Whedon is also co-plotting and has indicated that these events occurred after the end of the final episode. With that...

-"It all started with a girl."
-Los Angeles is toast. The Senior Partners' forces have laid the town to waste to the point that the sun can't even come out anymore. And yes, the dragon is still alive and kicking, though Angel has actually turned it to his side.
-Angel mentions that a month has passed, as he's still saving any civilians that are unprotected in the streets. He sends those he rescued to a mysterious address.
-Angel returns to the Wolfram & Hart offices, where he finds a demon known as Burge and his son. The son demands Angel's hide, but Wesley (!) walks in and points out that the Senior Partners still want Angel around. Burge points out that his son and minions will comply, for as long as Angel stays within the confines of the office. Of course, if he leaves, Burge will take Angel's head...and that nifty metal desk in the corner. Burge's son tries to kill Wesley in frustration, but those that watched the end of the series know that Wesley's already dead. And here we learn that he's incorporeal!
-The people that Angel rescued earlier reach their destination. It's a lone warehouse by the Santa Monica Pier, inhabited by the remaining survivors of the W&H massacre. The survivors are led by Connor, Gwen (last seen in Season 4), and Nina (Angel's love interest/werewolf from the last season).
-We then go to another demon lord trying to set up shop, but he gets taken out...by Gunn! Gunn rescues the demon's slave girls and starts to get some kinky ideas.
-Angel watches as Burge's son and minions terrorize more people. So he chucks that nifty metal desk at them before taking his trusty stake and chucking it at Burge's son, killing him. He declares war on the demons running roughshod over L.A.
-We see Wesley walking into the White Room, as it's teased that we'll find out more of what happened with him next issue.
-Issue ends with the slave girls from earlier being eaten...by a VAMPIRE GUNN!

Well, after all that time since the final episode, it's FINALLY great to have some official (all previous IDW publications had Joss Whedon's blessing, but weren't designated canon) answers! Wesley still walking around had me thinking he signed an official W&H contract. Then I remembered that they all did at the start of Season 5, making me wonder if Fred isn't still around somewhere and we just don't know about it yet. Although there's no explanation as to why Wesley's incorporeal, whereas other W&H deceased (Holland Manners, Lilah Morgan) are full-on corpses. I guess we'll find out next issue.

Gunn going vamp was something mentioned by Joss Whedon in the past. He said it's something that would have happened had the series carried on. That's not to say I still wasn't thrown for a loop when I first saw it. Gunn's saga is truly a tragic one, as he's become what he's always fought from the start.

No sign or mention of Illyria, which is very interesting. Her first appearance is something I'm eagerly anticipating.

And as for Spike? The tease for the next issue indicates that Spike's currently IN HELL! Excited for the next issue yet?

Angel fans, this is your series! You can jump right in and enjoy yourselves. Newcomers, however, are warned to stay away, as this is NOT a good jumping on point. Thumbs up!

(edited by It's False on 26.11.07 0132)

---

"Wocka Wocka...who wants to hear a funny-ass joke?"

Promote this thread!
komarkaze
Mettwurst



Since: 9.1.03
From: VA

Since last post: 3505 days
Last activity: 3502 days

#2 Posted on | Instant Rating: 6.64
I thought this was a fantastic return for Angel. From what I've heard, LA itself was sent to Hell, or a hell dimension. Maybe that's why it's independent of the stuff going on in the Buffyverse.

Other notes:

Friends becoming enemies. Wesley still being a player is going to have great future potential for our characters. Gunn becoming the monster that fought so long aginst is a great touch. Begs me to wonder who sired him. He can be a formidable foe, and why he isn't associated with Wolfram & Hart the way Angel still is.

It's great to see the return of Betta George. He's basically a large telepathic fish with a funny sense of humor. He was created by Lynch in the Spike: Asylum comic series, which ended up landing him the job for After the Fall after Whedon read it.

As for Illyria, they spent time explaining in season 5 that any remnants of Fred's soul was permanently burned away when Illyria took over. Fred can't return, though Illyria appears to have some traces of Fredness, in that she can access her memories as well as emotions.

Future stuff:
Wonder what will happen to our old Angel players, like Spike, Illyria, and the deceased lawyers. Promising start so far.


---

Can't stop the Signal
John Orquiola
Scrapple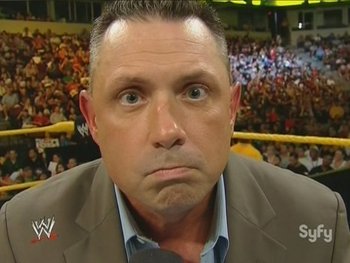 Since: 28.2.02
From: Boston

Since last post: 1425 days
Last activity: 1425 days

#3 Posted on | Instant Rating: 5.36
I have to say I hated it. Hated, hated, hated it. I was already predisposed to hate it because I hate continuing something outside its original medium. I've always felt things like Star Trek and Star Wars novels don't count. For those that enjoy them, great. But I can't get into them.

I didn't intend to pick the comic up because I always felt the end of the Angel TV show was pretty great. As far as I was concerned, Angel died in that alley fighting that dragon and I was satisfied. It was a poetic ending honoring what the series was all about. I'd have loved if Angel got a season 6 and beyond on television but to me, continuing the series in comic form just doesn't work. Felt that way when I read Buffy #1 too.

But I buckled and got the comic because it's Angel and I loved Angel. I gave it a try. And I wanted to see what "season 6" would have been about. I thought the artwork sucked and I just couldn't get into it. Nothing redeemable for me. Without those actors playing those characters and without live action, it's just not Angel to me. I won't be buying another issue.

Angel is over for me. And if I ever meet Joss, I'd tell him the same thing.


---

Back of the Head: www.backofthehead.com
Quezzy
Scrapple



Since: 6.1.02
From: Pittsburgh, PA

Since last post: 6 days
Last activity: 11 hours

#4 Posted on | Instant Rating: 3.23
I always lean towards liking comic books for their stories rather than art but there are a few occasions when the art is so bad that the story can't save it and this is one of those times. The art is complete crap and I can't even stand to open the comic.


---

Lance's Response:

THAT IS AWESOME!