pieman
As young as
he feels



Since: 11.12.01
From: China, Maine

Since last post: 2 days
Last activity: 13 hours


ICQ:
#2 Posted on | Instant Rating: 7.81


I love how he skitters out the door like a cockroach when the lights come on!


---
Gabba Gabba Hey!
rinberg
Boudin rouge



Since: 30.1.02
From: South Georgia

Since last post: 2298 days
Last activity: 345 days

#3 Posted on | Instant Rating: 4.77
Two thoughts:

1) Props to the clerk for lightning reflexes. If you'll notice, he isn't even looking at the guy come in. He's reading something on the counter when a gun that he wasn't even aware of drops into his hands.

2) The only thing that would make it better would be for the dope to trip on his way back out.


---

There are 10 kinds of people in the world. Those that can read binary and those that can't.
Cerebus
Scrapple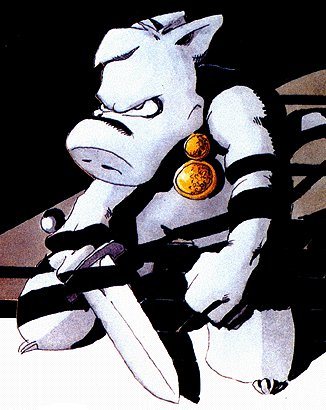 Since: 17.11.02

Since last post: 297 days
Last activity: 19 days

#4 Posted on | Instant Rating: 0.97
What a dumbass.

I think the 'robber' was a female. Watch the walk and fumble. Also, it looks like she has breasts.

Is that dumbest criminals show still on anywhere?
The Thrill
Banger



Since: 16.4.02
From: Green Bay, WI

Since last post: 1470 days
Last activity: 104 days

#5 Posted on | Instant Rating: 4.25
God bless the men of 2nd Bn, 127th Inf, 32d "Red Arrow" Brigade, WI Army Nat'l Guard...good luck, and come home soon.

Already saw this on some other show a few months ago...can't remember what one, though.

I doubt "AFV" would take it if it's already been seen elsewhere...those Japanese characters on the upper-right don't look familiar...makes me think it's been on Japanese TV already.

Still, dumb criminals = hilarity.


---
Wrestling fans...it's time for NWA Wisconsin Happy Hour!
Now showing on WI Time Warner Digital Cable On-Demand Channel 998!

ekedolphin
Scrapple



Since: 12.1.02
From: Indianapolis, IN; now residing in Suffolk, VA

Since last post: 20 days
Last activity: 7 hours

#6 Posted on | Instant Rating: 2.29
"Well, some of the dumbest criminals in the world live right here in America, I've always been very proud of that."
--President Josiah Bartlet,
The West Wing
---
"Scotch, on the rocks. AND I MEAN ICE!"
--Eddie Valiant, Who Framed Roger Rabbit
Five-Time W of the Day (5/27/02; 7/3/02; 7/30/04; 8/28/04; 12/16/05)
The Only Five-Time (and Last) N.E.W. World Heavyweight Champion
Certified RFMC Member-- Ask To See My Credentials!