Parts Unknown
Lap cheong



Since: 2.1.02
From: Darkenwood

Since last post: 32 days
Last activity: 14 days

#1 Posted on | Instant Rating: 4.63
It's Top 12 selection week and we're PUMPED to see if the girls can out-do last week's "like paint drying" performance. Melissa's up there on the catwalk, showing her belly again. Good move.

Hey, it's THE CHOSEN ONE with that song about a conga by Gloria Estefan. She's trying to do the Latin flavor but she sounds out of breath. She does have energy, but this is a lackluster vocal. Wait a minute – why is she wearing jeans under her dress? I guess when you are chosen by God Almighty in Heaven to win the competition, you have to dress conservatively. Kind of a nun thing. Randy immediately makes me grit my teeth as he starts talking about "not the best song choice," the line he has delivered 5 million times this year already. Jeez. Paula hedges but obviously didn't like it. How dare she criticize The Chosen One! Insolent dog! Simon thinks Paris was feeling the nerves. It's like they're afraid to criticize her or something. Well, the One who chose The Chosen One DID destroy some cities back in the day, so let's play it safe.

Here's that disgusting commercial where a dude eats a huge hamburger. This sickens me. At least it's not Kirstie Alley.

Is that The Big Boss Man on the phone with his wife from the set of Unanimous? It looks like his SPEERit….has been BROken.

Lisa is out to sing…well, again, they don't give the song names. She straightened her hair! Gone are the eighties! The song is sweet and Lisa delivers a perfect vocal. It's fantastic, for real. Randy says…well, you can guess what he said. It's what he has said during the last 20 or so performances. Paula says Lisa seems seasoned and has poise. After the judgment, hard-hitting journalist Ryan Seacrest asks Lisa if there is more intense competition this week. Nawwwwww.

Melissa loves cars and is awesome. She's going to sing "What About Love" by Heart, which is somewhat risky but safe at the same time. Risky, because she's chosen to follow Carrie and Mandisa's awesome renditions of Heart songs, but safe because Heart songs have done really well on the show. She nails it. She's super sexy and just blows the song away. I'm beginning to think I'm just a sucker for Heart. Maybe I should buy some CDs. Randy ACTUALLY LIKED THE SONG CHOICE and the space-time continuum is permanently ripped. Paula calls Melissa a powerhouse. Simon thinks she was awful and should pack her bags. Melissa counters by saying she just wanted to "let it rip" and break the tired mold. Good show.

The Sour Patch Kids commercial is awesome!

Katharine is interviewed by Big Balls Seacrest and she confirms she is NOT quitting the show and is NOT pregnant. She does nothing to dispel the lesbian rumors. SCANDALOUS.

Kinnik loves to eat hog intestines. Ewwww. Her dress looks like she stepped on a land mine at a barn dance. She is off key several times while doing yet another old R&B song I don't know. The judges are going to kill this. Why can't these people learn to stop being boring? Randy loved the song choice? WHAT? Paula says, "Eh…um…you know…(SIGH)…well, you know…yeah…um…sharp…" or something like that. Simon says it was all over the place and Kinnik is toast.

Now there's a commercial in which a pregnant woman eats ice cream and olives off her one pink shirt. This is gross.

Katharine went to the same school as Constantine. That's…great. She's bouncing this week! It's a pretty vocal as she does "Think." She's voluptuous. She's obviously trying to overcome last week's sedated performance, and it works. Right on. Paula enjoyed seeing Katharine have fun while maintaining voice control. Simon says she took a risk and pulled it off, making it seem effortless. Katharine says "fun" a million times and notices. "I'm saying the same word over and over!" Seacrest assures her, "It's okay – we're used to Randy." SERVED! SERVED!

Ayla "Starscream" Brown thought her dad was Elvis until she was 10. Man, these people are freakin' weirdos. I can't hear her, the song is too low. She looks great, but "Unwritten" is not the best song choice (I owe Randy $.05 in royalties for typing that). She looks just like Jodie Foster tonight! Wow! She does the Pickler stance, but not as well. The judges liked it, but are kind of "eh whatever" about the performance.

Mandisa sucked her thumb until she was 23. Just when you thought it couldn't get any weirder. She brings it with CHAKA~! "I'm Every Woman" is the perfect song for Mandisa and I don't mean that disparagingly. This is awesome. She is absolutely NUKING the song. What a great vocal. The judges say it was in another league than the other contestants and was the best female vocal of the season. Mandisa is really, really good, but will America vote for her over some of the sexier contestants?

John Lithgow apparently will serve you soup. Man, he's jumped the shark. He went from Harry and the Hendersons to THIS?

Kellie is a dog lover. I thought she loved Katharine? She walks out of the Burger King flame broiler and goes into convulsions. No wait, she's just trying to show emotion. It's Melissa Etheridge's "I'm the Only One" and Kellie is positively SCREECHING. She falls to the floor in faux-dramatic high school talent show fashion. The last note is sour. Woof. Randy says she's been consistent. Yeah, consistently bad. Simon calls her a "naughty little minx" (?). She's not the best singer, but interesting, he says. Then Simon says the dumbest thing I've ever heard him say: "I actually prefer you to last year's winner." WHAT THE HELL?

All in all, a good show. We'll see what the guys can do tomorrow night.




---


Have you ever considered any real freedoms? Freedoms from the opinion of others... even the opinions of yourself?
Promote this thread!
Packman V2
Bratwurst



Since: 16.3.04
From: Albuquerque, NM

Since last post: 56 days
Last activity: 14 hours

#2 Posted on | Instant Rating: 5.22
Looks like we're on the same boat in a couple of spots there PU...anyways...my thoughts...

-Paris definitely added more youth to her performance, but Gloria Estefan is just terrible music to try and use for this competition. But no worries for her, as she should easily make the Final 12. In fact, even before the show, I have 4/6 already in, and waiting to see who the other to might be.

-Lisa's performance was about like it was last week, good, but not spectacular, I thought Paula really nailed it with mentioning her singing the song had a "disconnect" feel. Regardless, she's another who makes it through to the next round.

-Melissa's performance was good IMO, and while I don't think she's a sure thing to make the final 6, I really hope she makes it just because she is different than the songstresses. I'm the only one in my household who does like her, so I don't know what that means for her. She's kind of on the bubble at this point to advance or not.

-Kinnik...before the night started, I figured she was one of the ones for sure to be going home, and she tries to strike back with an Alicia Keys song. She's gone. Just leaves one more spot on the airplane tomorrow IMO.

-Katharine..While Mandisa is going to be the popular pick as best female vocalist, I just love Kat. She brought it tonight. Another spot secured.

-Ayla. Ugh. If I'm right, she's gone too, saving Melissa for the final 12. Nothing at all special.

-Mandisa...I don't need to say much here, another of the four I had already panned....Kat may be #1 in my book, but she's definitely a close second.

-Kellie...Votes not considered, I wish she was one of the ones going home. I have felt from the first time I saw her it wasn't going to work with Carrie doing generally the same thing last year, but who also sang better, and looked better. But what Kellie lacks in singing ability and looks, she's wayyyy overcompensating for with her best attempt as a ditsy down home country girl. Simon saying he likes her better than Carrie is probably the biggest WTF moment of the year so far for me. But I'm sure she moves on as well, although I don't like it.

So, we have Kat, Mandisa, Lisa, Paris as locks IMO, with Melissa & Kellie nabbing the final 2 spots. I think Ayla is too easily forgettable and didn't help her case with a weak song, and Kinnik is just going to be hugely overshadowed not only Mandisa, but by Lisa & Paris.


---
The Big Kat
Kishke




Since: 11.1.02
From: Austin, TX

Since last post: 1978 days
Last activity: 1 day

#3 Posted on
I think Carrie won me over last year when she sang "Alone" from Heart, and I loved Melissa doing Heart too. I think Kinnik and Ayla go home Thursday. So far, I've agreed with everyone booted off, and hopefully America can keep up its good streak (this year).


---

-The Big Kat
When you're tired of wishing on a falling star, you gotta put your faith in a loud guitar. -KISS
saturn93
Blutwurst



Since: 21.4.03
From: Naperville, IL

Since last post: 4 days
Last activity: 1 day

#4 Posted on | Instant Rating: 2.00
My thoughts 8 to 1 (8 best, 1 worst):

8) Mandisa - When Ryan said that she was going to do a song by Chaka Khan, I knew what it was. Did well with that one.

7) Paris - I thought she did good, but I did not like the dress/jeans combination.

6) Kellie - Please keep her through this week!!! I just want to see how she reacts when she gets eliminated one of these weeks.

5) Katharine - Better than last week.

4) Ayla - OK

3) Lisa - You can't sing a slow ballad song at this time, right before the final 12.

2) Melissa - If I could even hear a few squeaks near the end, you're probably going home. I debated between Melissa and Lisa for the 2 position, but the squeaks did it for me.

1) Kinnik - See Lisa, you have been on the brink of going home the last two weeks, but the third time is not the charm. Good-bye.

Other stuff:

I've seen the show since season 3. Was this the first time I saw Simon really crack up with the Kellie "minx/mink" comment? That was probably history in the making.

Guys tomorrow.


Torchslasher
Knackwurst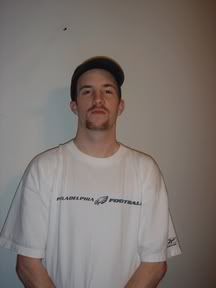 Since: 17.1.02
From: New F'n Jersey

Since last post: 85 days
Last activity: 26 days

#5 Posted on | Instant Rating: 5.75
While I was playing poker at a house last night, AI was in the background. So I didn't actually watch it, but I did hear this Ayla chick BUTCHER "Unwritten." We pretty much all agreed that it was awful. I personally enjoyed the girl who did "I'm The Only One" though. That's about all I heard.


---

Click Here (czwfans.com)

For all your CZW and Nickels Trivia information.


"Look guys, it's 'Lake Man!' Hope you can fit into our NARROW office, Mr. Big Lake" --MST3K The Collection V. 7

Click Here (myspace.com)