Parts Unknown
Lap cheong



Since: 2.1.02
From: Darkenwood

Since last post: 6 days
Last activity: 2 days

#1 Posted on | Instant Rating: 4.63
We're back with the second week of audience voting and there's the lineup of contestants. Who's in that funky cowboy hat? It's Kinnik. I bet she's wearing it in support of Boomhauer, who narrowly avoided the axe last week. Maybe they've got something going on?
Seacrest thanks us for boosting the ratings. You're welcome, pal.

Katharine is going to sing some Stevie Wonder song but FIRST we have footage of Katharine and Kellie in BED TOGETHER hugging and telling one another they are in love. I'm not making this up. I guess they're using a lesbian storyline to boost their votes (smart move). Katharine, oddly enough in light of this new relationship, looks pregnant. And she sings the song, which is a good vocal, as expected, but I think she's been sedated. Or maybe I've been sedated. Either way, this is fairly boring and Katharine's voice gets all screechy in the middle. This is a complete turnaround from last week's performance. The judges think Katharine needs more personality, which Katharine will probably interpret as meaning "hop around and sing a fast one next week." She then looks at Seacrest like she's going to eat him.

That "pink in the sink" commercial is disgusting. So is that Jenny Craig commercial with Kirstie Alley all smacking and dropping crumbs on herself. I change the channel every time that thing comes on.

Kinnik is going to represent the country by singing Gretchen Wilson's "Here for the Party." It's exactly what you would expect, I'm sure. I begin to notice my chair is hot and my butt may be on fire. Oh yeah, the cat was lying here before I started this. The cat's body temperature is somewhat more exciting than Kinnik's performance. She stomps around and stuff in a bustier. The judges don't like it.

Lisa is going to sing…something. Man, they're doing a terrible job giving the song titles tonight. Lisa hits a new level this week and delivers a pitch perfect rendition of (I think) "Who's Lovin' You." Randy says it's En Vogue. Or Michael Jackson. WHICH ONE IS IT?! Randy thinks it was an odd song choice. Paula says Lisa should be signed. Simon says it was too old. Ohhhh…it was The Jackson Five.

Melissa is going to sing "Why Haven't I Heard From You" by Reba McEntire. WOW, she has a sexy stomach and isn't afraid to show it. She looks totally different tonight. Last week, she was going for the ultra-conservative look. I guess she figured it was time to turn on the sex appeal. The song is really sexy and energetic. See, Kinnik, THIS is how you do a country song – with class. Her Tanya Tucker whiskey voice is perfect for this song. I'll remember her this week. The judges really liked it but Paula and Simon almost have a fistfight. Simon calls Paula a precocious child and she changes seats with Randy. This is getting ugly.

Heather decides to redeem her ho-hum performance from last week by doing…"HERO" BY MARIAH CAREY?! What a terrible idea. It's exactly the same boring, vanilla vocal as last week, except this time, she's throwing in a bunch of smiling and head nodding for effect. She's trying too hard. Heather turns up her stage presence in much the same way Jim Carrey turns up his acting skills. Paula and Randy can't find anything to say except Heather is beautiful. Simon thinks it was like a ghastly pageant. Ghosts have pageants? I'm confused.

Brenna is ready for the prom and indeed, she will sing "Last Dance" by Donna Summer. She reveals that she is singing this song because she and Donna Summer have the same hair. Uh-oh – they give Brenna the same background (time-lapse highway video) that Becky had last week. The act starts really slow and boring but then THE CLAWS COME OUT BY GOD and…well, not really. Brenna looks scared and her voice is really flat. Her stage presence has improved from lifting her left arm to sticking out her right hip. We're listing to starboard, cap'n! The judges hated it and Brenna mugs for the camera. We then get a shot of Paris, who looks like Rudy Huxtable tonight. What is going on here?

Now we have a commercial with a guy burying his face in a gigantic hamburger. These eating commercials are really making me want to vomit.

We're back with Paris who informs us she's "got favor!' Seacrest is confused. Paris repeats "I got favor!" and points upward, presumably at God. Okay, so mark this down somewhere folks (or I'll keep track of it for you) – Paris just (literally) proclaimed herself to be The Chosen One and has just told America that Jehovah God Almighty is on her side. Well, she's obviously going to win, then. She's going to sing, of all the millions of songs out there, "WIND BENEATH MY WINGS" by Bette Midler. I can't believe it! She's OBVIOUSLY favored by God! Gag. OH MY SWEET LORD – tell me she DID NOT just do the flying motion with her arms! This is nuts! She then closes with the praying hands pose and I am appalled. The judges call it boring. Seacrest asks The Chosen One why she chose THAT song and The Chosen One replies: "My grandmother likes it." Uh-huh, just like Bobby's grandma liked Copacabana, and look what it did for him. I officially hate Paris. Forget Paris.

Ayla "Megatron" Brown learned how to put on makeup while on Idol. She tells us she is ALWAYS sweaty and dirty when she's back home. We really needed to know that. She's going to sing Celine Dion's "I Want You to Need Me." Yay. BOOMHAUER SIGHTING! He's looking nervous. We'll see if he can bring it tomorrow night. Ayla is the best of the night – she appears passionate and has improved quite a deal. Simon STILL calls her "mechanical." What does she have to do to impress the guy – slit her wrists?

Kellie is going to give us a little Bonnie Raitt. She had a spinach salad and some "calla-marrrr-eee" and is ultra cute. I think she's putting on – there is no one this dumb and sweet. She wisely doesn't mention Prison Daddy this week. "Something to Talk About" is sassy and pretty. She sounds great. She flips her hair into her face and suddenly I see Vince Neil. Randy calls the performance "organic" (?!?). Simon says Kellie is not a great singer, but is too cute not to like.

Mandisa's going to close out the show with "Cry" by Faith Hill. This ought to be really good. She indeed sings with conviction and maturity. It's a powerful rendition. Taylor is in the dog pound and he FEELS it. Paula tells Mandisa she has unbelievable range and she (to quote Paula) "has…way…of taking…songs..and…put…own flavor…on it…" Paula's broken delivery is ridiculous. Time to hit the crack pipe after the show. Simon thinks the vocal was old-fashioned but "when you're on it, there's not a better female singer in this competition."

Wow, what a truly bad night. The performances were mostly awful. At this point, I can't find anyone to cast a vote for. I predict the men are going to dominate the competition this year. Yahoo's Buzz Log today showed more people are searching for Ace Young, Chris Daughtry and Taylor Hicks than many major celebrities. No female Idol contestants made the chart.

Oddly enough, buzz on Copacabana went WAY up this week. What's up with that?

I can't wait for tomorrow night because this show left a rotten taste in my mouth.



---


Have you ever considered any real freedoms? Freedoms from the opinion of others... even the opinions of yourself?
Promote this thread!
saturn93
Blutwurst



Since: 21.4.03
From: Naperville, IL

Since last post: 33 days
Last activity: 1 day

#2 Posted on | Instant Rating: 2.00
Well, that was bad. Almost all the songs were sooooooo slow. Good thing for Tivo.

10 to 1 - 10 = best, 1 = worst

10. Mandisa

9. Kellie - Lot of fun listening to the song.

8. Melissa - Could be a dark horse to win it all.

7. Kinnik - Improved from the last time.

6. Ayla

5. Lisa - What happened?

4. Paris - See Lisa.

3. Heather - Just wasn't good.

2. Katharine - Just bad. Likely out.

1. Brenna - This was supposed to be her shape up or ship out week. And her boat is waiting for her. Get out and stay out, please!!! Also, I have a feeling that "Last Dance" could be added to the "cursed" song list.

Katharine and Brenna goes home, but I would not be surprised if anyone from 3 to 7 is out.

I hope the guys are better tomorrow, and hopefully better than last week.


(edited by saturn93 on 28.2.06 2139)
Packman V2
Bratwurst



Since: 16.3.04
From: Albuquerque, NM

Since last post: 85 days
Last activity: 11 min.

#3 Posted on | Instant Rating: 5.21
Holy Mediocrity Batman!


To be able to pick a best performance of the night is well, a waste of time. The only reason any of the contestants stood out tonight was due to their video packages, and it certainly wasn't their singing. This is the type of show I'd expect when they do the auditions, not narrowing the field to the Final 12.

Not even gonna try to rank the 8 that move on, but I think it's the "End of the Road" for Heather and Brenna. Kinnik might sneak in and save one of them for another week, but I think it really comes down to one of the 3.

Hopefully the guys bring it tomorrow night, and force the judges to take all of the girls to task, so they raise their game, and try to keep from 2 awful shows in a row.

Coolest moment of the night: Mandisa busting out the "Dogjaw" and scaring the bejesus out of Ryan & Random Production Guy..

Not so cool...the show was live, and they didn't even mention the fact that Barry Bonds did a mock up of Paula Abdul during Giants Spring Training, and is quite possibly the sports story of the day. I just hope they cover it tomorrow.


---
dunkndollaz
Banger
Back to Back Survivor



Since: 3.1.02
From: Northern NJ

Since last post: 36 days
Last activity: 8 days

#4 Posted on | Instant Rating: 6.84
It really is hard this week to pick the 2 worst. I think that Katharine, despite her awful performance, is still safe. The 3 that should be sweating the most are Heather, Kinnik and BRENNA.


---

Hey Crab Man !
pieman
As young as
he feels



Since: 11.12.01
From: China, Maine

Since last post: 14 days
Last activity: 3 hours


ICQ:
#5 Posted on | Instant Rating: 7.79

I would have to agree with Packman and dunk. Brenna and Heather are easily the worst combination of boring vocals and unlikeability. Kinnik could be in trouble, but she at least seems likeable.

Mandisa, Kellie, Lisa, Paris, Katharine and Melissa should be the six who make it out of this side of the bracket.


---
Gabba gabba hey!
Kevintripod
Banger



Since: 11.5.03
From: Mount Pleasant, Pa.

Since last post: 30 days
Last activity: 18 hours

#6 Posted on | Instant Rating: 5.10
Originally posted by Parts Unknown

---

So is that Jenny Craig commercial with Kirstie Alley all smacking and dropping crumbs on herself. I change the channel every time that thing comes on.

---




Thank you......I thought it was just me.


---

"Oh it's on like Donkey Kong." - Stifler, American Wedding
cranlsn
Toulouse



Since: 18.3.02
From: Hartland, WI

Since last post: 66 days
Last activity: 2 days

#7 Posted on | Instant Rating: 6.72
Originally posted by Kevintripod

---

Originally posted by Parts Unknown

---

So is that Jenny Craig commercial with Kirstie Alley all smacking and dropping crumbs on herself. I change the channel every time that thing comes on.

---





Thank you......I thought it was just me.

---


Thanks to the wonders of DVR I haven't been exposed to that yet.

Back on topic...put me on the tote board as picking Brenna and Heather to go. (But with the caveat that I won't be surprised by anyone else getting cut either...with the possible exception of Mandisa.)

Just a lackluster night...and thank you judges for telling the youngsters to "stop trying to be OLD".
Torchslasher
Knackwurst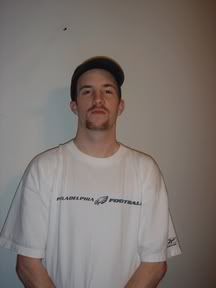 Since: 17.1.02
From: New F'n Jersey

Since last post: 114 days
Last activity: 55 days

#8 Posted on | Instant Rating: 5.75
I'm not watching this season, and with PU's take on the show, I realize I don't have to. Great job with the recap and I look forward to continually avoiding the show and just sticking to your reviews.


---

Click Here (czwfans.com)

For all your CZW and Nickels Trivia information.


"Look guys, it's 'Lake Man!' Hope you can fit into our NARROW office, Mr. Big Lake" --MST3K The Collection V. 7

Click Here (myspace.com)
Parts Unknown
Lap cheong



Since: 2.1.02
From: Darkenwood

Since last post: 6 days
Last activity: 2 days

#9 Posted on | Instant Rating: 4.63
Hey man, thanks. I hope you can read between the lines of all my sarcasm. But really, this show was so bad, there was really nothing else to write except to make fun of the contestants.

BOOMHAUER LIVES


---


Have you ever considered any real freedoms? Freedoms from the opinion of others... even the opinions of yourself?
wmatistic
Andouille



Since: 2.2.04
From: Austin, TX

Since last post: 664 days
Last activity: 548 days

#10 Posted on | Instant Rating: 4.19
Seems we're all in agreement about who should go, but it's bugging me that they haven't actually said how many they will cut this week. Last week I'm pretty sure they said at the start that four total people would be gone, but it's like they are avoiding giving a number this week. Not even on the website last I checked.

So are we just assuming that two girls and two guys are gone again, or have they not decided themselves yet?
SchippeWreck
Banger



Since: 26.3.03
From: Glendale, CA

Since last post: 208 days
Last activity: 208 days

#11 Posted on | Instant Rating: 7.54
It should be 2 girls and 2 guys this week and next week, leading up to the Top 12.


---

My mom says sigs are bad for you.