Venom
Boudin rouge



Since: 15.1.03

Since last post: 3946 days
Last activity: 3916 days

#21 Posted on
Just a few things:

I'm guessing they transition the tag titles to Le Resistance who will in turn transition the belts to the soon-to-return, all American, APA. Yee haw.

If Flair was turning on HBK and reuniting with Triple H, why was Orton stalking him backstage without his knowledge? Also, why did Triple H and Ric Flair have a fight backstage when Flair was going to help him out in the first place? Now, yes, I understand that in the over-all scheme of things it was to fool the fans so we didn't see Flair's turn comming, but it's annoying shit like this that adds up and creates massive plotholes if you stop to think about what's going on for more than 10 seconds.

With Flair getting bitchslapped back in line by his pimp daddy, Austin single handedly carried this show for me. Funniest moment; Triple H starts blathering backstage to Steve, who looks at his watch. Amen, brother.

Flair vs. Michaels is the first RAW program I've been looking forward to since...uh...maybe the Elimination Chamber.


---
AWArulz
Scrapple



Since: 28.1.02
From: Louisville, KY

Since last post: 2 days
Last activity: 2 days

#22 Posted on
well, geeze - the guys with me only noticed one thing from Raw: While Lillian was drinking with Steve, her blouse got wet and slipped down and we could see the top of her areola and Steve had to tell her and she jerked it back up.

But yes, she can drink some beer. Thank goodness Mrs. AWA was doing other stuff lats evening. I might be banned.


---

We'll be back as soon as order is restored.....
Net Hack Slasher
Banger



Since: 6.1.02
From: Outer reaches of your mind

Since last post: 4930 days
Last activity: 3350 days

#23 Posted on
HBK/Flair interview- The second the match was made I would wager huge for the Flair doublecross on Shawn.

-Booker vs. Test- This was a good match. It went over 5 minutes and it grabbed my interest as it went on. Full marks because I fell for the near fall after Booker kicked Stacy and Test hit the pumphandle (which I was ready to complain here if it was the finish of that match LoL). But I bought it and Booker kicked out, so good on them. I enjoyed this match.

-Val vs. Stevie-Trish comes out and some gal in the stand has a sign that reads "Even Girls need some Stratusfaction", don't know what she means by that, but whatever it is I want to find out LoL... As for Val, is this his 4th time doing this gimmick. Didn't they drop it the 3 other times because it got tired fast. Wow a Victoria Secret comment, how lame, how 4 years ago. Please do not pair Trish with this tired played out character. You have so many options to put in a Vickie/Stevie/Trish feud. Put Dreamer in here, I'd love to see him feud w/ Stevie & have the Trish/Vickie around as well. You can put Hurricane with Trish, he wasn't on Raw AGAIN, pair him up with Trish so he can atleast get on TV. I can't stand that Val is going to drag down 3 of my favorite people on Raw. Val should go to Smackdown and hang with the playboy gals, his "talent" will fit better there. BTW this Val match was boring.

-Lillian/Austin sing- Okay this ruled. Camera's on Lillian which is always a good thing. She starts singing and Frenchies interrupted her but Austin comes down and throws them out (which worried me a bit but WWE did a great job later on for them to get their heat back). Austin duet with Lillian was great. Loved Lillian stopping at some parts so Austin sings solo LoL. Lillian starts gulping down the beer, WOW. You think a sober Lillian makes mistakes, I thought the second hour would be full of mispronunciations, but she seemed to work better tipsy then sober LoL... Lillian was so drunk she went up to that female fan who had that "Even Girls Need Stratusfaction" sign, took it from her and brought it back to her timekeepers seat and waved it over her head for the rest of the night. Drunken Lillian Rules!

-Goldust vs. Christian- You have a new IC champ and you have him lose against Golddust first singles match out. Great job in building this title, guys. Booker's having a PPV match with a guy who can't beat the weaker half of Team BookDust.

-Mack vs.Bubba Ray- When did Nowinski feud with Bubba, I thought he had a problem with Test/Stiener? And 3Minute Warning had problems with the Dudleys. This interference came out of no where and had no reasoning what so ever. I'll give one positive not, nice belly to back suplex by Bubba... Okay these last 2 matches made no sense unless it's drunken Lillian booking it.

-Grenier vs. RVD-I think I'm the only one on the net that liked this match fully. I thought it was done perfectly. Frenchies got their heat back after the Austin thing. Even though RVD lost to a rookie he looked really good and strong. I thought the match was done well & everyone looked pretty strong and good, well maybe except for Kane who was knocked out forever from falling onto steps. But a nasty flag shot to Kane's throat and some good bumps and spots from all involved. I would say match of the night. I really enjoyed this entire setup & segment. Plus total bonus to the French guy prancing around in front of military guys after his win LoL... What's with Lawler. His IQ goes up whenever La Resistance is on the air, he mentioned Nova Scotia is New Scotland when a month back & tonight he talked about the patches on their shoulders and Napoleon. I don't usually compliment Lawler but that's pretty strong.

-Y2J's HiLight Reel- I guess they did the best they can with a feud that everyone watching knows what the outcome is going to be... By the way, what on earth was Terri screaming at Jericho? It was jiberish

-HHH vs. Michaels/Flair- Saw this coming a mile away. At least they didn't have Flair wrestle HHH for some time before doing his "dramatic turn"... I always get a WCW shiver when I hear JR saying "Call your friends for this main event" and they give us this. I'd rather KEEP my friends JR. Had no idea who the masked man was but his full speed chair shot on Nash's knee had ZERO effect on Nash, man Nash is real steal!

-other stuff- Austin backstage just rules! First time in a long time I was in the same mindset of HHH "What the hell happened to your face Austin". And Austin just gave out this creepy vibe and looked like hell. Even his eyes were all glassy, what the hell was up with Austin. But great segment backstage with HHH anyways... Austin/ Bischoff still entertaining. Austin totally improvising on Bischoff wondering "If he truly does know the true meaning of Memorial Day". I'm really digging this Austin, because you have no idea if he's happy go lucky (ie w/ Lillian) or creepy (ie w/ HHH) or just angry (ie with Bischoff...

Christian's promo and then in inclusion of BookDust was great as well. Christian is really coming into his own character which is about time!... La Resistance saying America needs more people like Bischoff, ha Too Rich LoL... The only bad backstage promo was Nash, who seemed bored (or maybe that's his way of acting cool) but for me it seem disinterested which fits my emotion about him perfectly.

Line of the Night: HHH to Austin "What the hell happened to your face?!"

Sign of the Night: "Even Girls need some Stratusfaction"

I thought there were some real good stuff tonight, and a very good show. The Lillian/Austin thing was total fun, I thought the flag match was perfect, Booker/Test was better then I expected, and most of the backstage stuff especially with Austin was very entertaining... The down part is the main event scene, the Goldy/Christian and white boy challenge in the 2nd hour was not great. Another major downer is the chance Val character coming back in being involved in the Trish/Victoria/Stevie, I hate the idea of that, hopefully he's not there so many better candidates. But all in all very entertaining show with some major highlights, speaking of highlights Lillian must have kept roomie Trish up all night, with her drunken puking of course








(edited by Net Hack Slasher on 27.5.03 0538)

---

cause there's limits to our liberties.
'Least I hope and pray that there are,
cause those liberal freaks go too far.

I'll crush all opposition to me
And I'll make Ted Kennedy pay
If he fights back, I'll say that he's gay
Mr. Boffo
Scrapple



Since: 24.3.02
From: Oshkosh, WI

Since last post: 1792 days
Last activity: 1753 days

#24 Posted on | Instant Rating: 2.44
Originally posted by Net Hack Slasher

---

By the way, what on earth was Terri screaming at Jericho? It was jiberish

---

It looks like Jericho was supposed to drive away, so that Terri wouldn't even be able to finish her question, but the keys weren't in the car, and Jericho didn't have them. So all of a sudden she needed to ad-lib a question, but she couldn't get it. I swear, they should have any segments with cars on tape, because this is like 3 or 4 times that they have messed up.


---

NOTE: The above post makes no sense. We apologize for the inconvenience.
OMEGA
Lap cheong



Since: 18.6.02
From: North Cacalacky

Since last post: 3282 days
Last activity: 887 days

#25 Posted on
I fear that La Resistance are winning the titles at Bad Blood. Unless it leads to the breakup of RVD and Kane (which I doubt it will), then no good can come from this.

And I didn't see the vignette. But, just because it aired on RAW doesn't mean he can't go to SmackDown. Remember, they aired Nathan Jones and Sean O'Haire vignettes on both shows.


---

Remember when WWF treated RVD like the main-event star he is?
Neither do I.
tomvejada
Andouille



Since: 2.1.02

Since last post: 5414 days
Last activity: 5414 days

#26 Posted on
The backstage segments with Austin were hilarious, espically the one with HHH.

Trish was AWFUL at commentary this week.

Christian's interview was good.

Highlight of RAW was the Highlight Reel. Jericho was great in this.

The end of RAW reminded me about Nitro. At least Randy Orton returned. I hope they mention Batista in the next few weeks.

Overall, another so-so RAW.




---

"Oh my God, Brian, there's a message in my Alphabits! It says, 'Oooooo!'" Peter Griffin
"Peter, those are Cheerios." Brian
InVerse
Boudin blanc



Since: 26.8.02

Since last post: 7 days
Last activity: 1 hour

#27 Posted on
---
Regal and Rocky are still in the opening.

---


Regal is still employed, he just can't wrestle at the moment. He's on blood thinners, so he bruises/bleeds really easily, thus can't take bumps. Apparently, he could be taken off of them at any time or he may be on them for several years, so it's possible that he'll be back on Raw at any moment.


---
Then again, any old ECW fan would agree that Lance Storm playing Jericho's monkey boy is kinda weird.
---


Not sure about what, if any, relationship they had in ECW, but considering Storm & Jericho's past history, it made sense to me. Especially when Lance was responding to fan questions about the angle on his website and seemed to have a legit dislike for Goldberg. First, he said something about how he would have preferred to superkick him instead of running him down (in regards to getting revenge for Bret Hart) but how it wouldn't be the same since he "actually WORKS" his superkick, then he talked about how much more offense he and Edge got in their semi-famed 1:08 match compared to the 1:10 squash where Goldberg only hit 4 moves. I believe the quote from Storm was along the lines of "He could have done a lot more if he didn't stall so long between moves." I've forgotten my point now, but I thought it was interesting that Storm was showing signs of legit heat with someone for the first time I've ever seen in the hundreds (probably thousands) of questions he's answered on his website. I'm surprised "Lance Storm Hates Goldberg" wasn't the front page headline on all the newsletters.

(edited by InVerse on 27.5.03 0747)
Ringmistress
Lap cheong



Since: 15.1.02
From: Philly

Since last post: 4016 days
Last activity: 4015 days

#28 Posted on
I KNOW I'm the only one (I'm used to it by now) who will say this, but I thought that RAW was really good. I get my pleasure any way I can out of the WWE, and I got it, courtesy of HHH, Y2J, Flair, and Randy F'N Orton! I know most of you weren't too convinced that Flair was finally free (unlike last week when you were gushing all over him). That's not the point. HHH really brought a smile to my face last night. You see, not only am I now totally used to the red trunks, but he was being a major bastard. I LIKE THAT!

Calling the greatest wrestler who ever lived an old bastard, trying to weasel his way out of Hell in a Cell, and finally the reuniting with Flair and Orton. I know how you guys feel about Hunter right now, but as for yours truly, THE Ringmistress, it proved to me that he can still be one of the most convincing heels there is. Big ups to HHH. Jericho also gets props because he BEAT THE SYSTEM and speared (and maced) Goldberg! Take that, WWE.com! Flair is still dirty, and you won't get a complaint out of me. Finally, Orton. He's back, and if he doesn't trip over his foot this time, I wish him luck. Christian was looking ever hotter than last week with his makeover, still funny too.

Overall, RAW had a somewhat meaningful angle for almost everybody on the show. On Smackdown, it's just Mr. America with the big angle, with everybody else wandering aimlessly. Big thumbs up for RAW, because I'll take any perverse pleasure I can get.


---

?!
Toast Jr
Kishke



Since: 30.1.03
From: Stafford Springs, CT

Since last post: 16 days
Last activity: 13 min.

#29 Posted on
I'm with Ringmistress, I thought the HHH/Flair/Orton stuff was great last night. I don't understand why people were bitching- of course Flair was going to turn on HBK, anything else wouldn't have made sense. For once the WWE gives us a perfectly logical storyline to set up a match at the PPV! It was all a diabolical plot to wail on HBK, and Orton was lurking around Flair backstage because they were in cahoots. I thought it came off making all three of them look like bigger, more credible heels and I was happy.
ges7184
Lap cheong



Since: 7.1.02
From: Birmingham, AL

Since last post: 75 days
Last activity: 63 days

#30 Posted on
Originally posted by OMEGA

---

I fear that La Resistance are winning the titles at Bad Blood. Unless it leads to the breakup of RVD and Kane (which I doubt it will), then no good can come from this.

And I didn't see the vignette. But, just because it aired on RAW doesn't mean he can't go to SmackDown. Remember, they aired Nathan Jones and Sean O'Haire vignettes on both shows.

---


And Mr. America, and La Resistance for that matter.

Running vignettes on both programs seems to be the standard operating procedure.
dskillz
Landjager



Since: 2.1.02
From: Houston Texas

Since last post: 4540 days
Last activity: 4245 days

#31 Posted on
Yeah, I don't know how it happened, but I guess Raw has surpassed Smackdown in quality. I guess Hogan being there and getting the MAJOR angle is hurting that show big time. Maybe the lack of Angle is also hurting the show as well.


---

January 4th 1999 - The day WCW injected itself with 10 gallons of Liquid Anthrax...AKA...The day Hogan "Defeated" Nash to win the WCW title in front of 40,000.
Mr Tuesday
Kolbasz



Since: 6.1.02
From: Chicago, IL

Since last post: 2208 days
Last activity: 1913 days

#32 Posted on
The show was OK for me.

I knew Flair was going to turn when I loked at my clock and it said 10:00. I thought "5 minutes left, someone's gonna turn."

I thought the Masked man was Scott Hall for some reason. But alas, it was Randy Orton. As soon as the Unmasked Randy started stomping, I started counting backwards from 100. 100%, 99%, 98%, 97%...

I liked Victoria's top last night. Very "Ivory-ish". Like I said before, real mean wear pink!

Loved HHH & Austin's backstage segment.

HHH: You gonna let Bischoff get away with that?
Austin: The match is still on.
HHH: Did I ever tell you that you're doing a good job.
Austin: The match is still on.
HHH: You're in GREAT shape.
Austin: The match is still on.
HHH: You're jellous of me!
Austin: The match is still on.

What's a good way of getting attention on a team YOU want to push but no fan really carss about? Make them the tag champs, of course! *sigh* This can only lead to bad things.

I said it before, I'll say it again. ALWAYS pre-tape the backstage segments, ESPECIALLY if it's a live show.

Good RAW, though.


---

What Is Your Animal Personality?
brought to you by Quizilla
Jackson
Sujuk



Since: 4.1.02

Since last post: 3331 days
Last activity: 2856 days

#33 Posted on | Instant Rating: 2.10
Who kicked Austin's ass?

A. A bar of soap

B. Debra

C. Rikishi

D. A case of Miller lite


---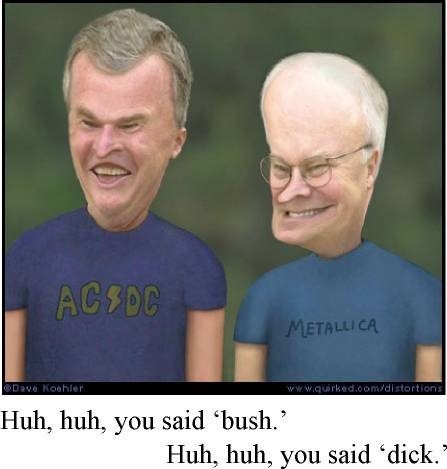 asteroidboy
Andouille



Since: 22.1.02
From: Texas

Since last post: 2770 days
Last activity: 1678 days

#34 Posted on | Instant Rating: 4.95
Lillian couldn't chug a beer worth shit. She had obviously closed her throat up, thereby causing 99.9% of the brew to spill down her masculine chin.

OMG, Randy Orton's back!! Evolution is re-formed!! The most dastardly of heel stables will once again wreak havock all over the... oh wait... well, they haven't really carved out any kind of legend for themselves yet, but finally we'll get those Ape -> HHH progression t-shirts!!

I only hope that Bautista will toe-dance down the ring to the tune of "Tequila" next week, to help his comrades beat down the Christian. A big red bike with streamers and saddlebags will also suffice.



---

-- Asteroid Boy


Wiener of the day: 23.7.02

"My brother saw the Undertaker walking through an airport." - Rex
"Was he no-selling?" - Me


StampedeFan23
Morcilla




Since: 12.1.02
From: BC, Canada

Since last post: 3393 days
Last activity: 2929 days

#35 Posted on
Did I hear Jim Ross revising history during the opening segment by calling Shawn Michaels the first Triple Crown Champion? Sorry, Pedro Morales and Bret Hart did it before Michaels. Anyone else catch that?


---

Are you ready for Mahkan-mania to run wild all over you?

I mark for Molly Holly and Lance Storm.
SKLOKAZOID
Bierwurst



Since: 20.3.02
From: California

Since last post: 10 days
Last activity: 10 hours

#36 Posted on
Originally posted by StampedeFan23

---

Did I hear Jim Ross revising history during the opening segment by calling Shawn Michaels the first Triple Crown Champion? Sorry, Pedro Morales and Bret Hart did it before Michaels. Anyone else catch that?

---


So did Diesel. Hell, he won it all in one year (1994).


---

"If you're asking if I would ever date a wrestler, certainly I would. However it wouldn't be good business for me to get romantically involved with anyone in any aspect of our business."
-Stephanie McMahon (Off the Record, June 3rd, 1999)
Matt Tracker
Scrapple



Since: 8.5.03
From: North Carolina

Since last post: 4 days
Last activity: 2 days

#37 Posted on
It's true Orton has to be careful, but my big injury fear is for Jericho. Goldberg hurts people (ask Bret) and I'm worried. Jericho's gotta carry the big ape in the PPV match whcih might wear him out enough to not avoid a Goldberg mistake.

I know, I know. Anyone can get hurt anytime.

Stil ...
The King of Keith
Lap cheong



Since: 4.11.02
From: Winchester, VA

Since last post: 1291 days
Last activity: 1290 days

#38 Posted on
I think he meant Grand Slam champion. Michaels was the first to pull that off when he beat the Bulldog in a British PPV. To take it a step further, Jericho was the first ever Big 5 holder (Euro, IC, Hardcore, Tag, and Heavyweight).

Just some useless trivia.


---

Yes, I like HHH! What's so wrong with that?
Notorious F.A.B.
Pepperoni



Since: 4.2.02
From: Dudleyville's Gay Ghetto

Since last post: 5367 days
Last activity: 5353 days

#39 Posted on
Didn't Kane beat Jericho to all those titles?

Raw was a GREAT show. Splitting the PPVs was a good idea. There's been a lot more to the show over the past two weeks. Good stuff. SD! will get good again when it's time for their PPV.

EDIT: I thought the Black Scorpion was HHH. Between the baggy shirt and the goofy camera angles, I couldn't really tell how big the guy was.

(edited by Notorious F.A.B. on 27.5.03 1245)

---

It's just you against the group mind.
TomWil
Medisterpoelse



Since: 27.5.03

Since last post: 5507 days
Last activity: 5507 days

#40 Posted on
Does anybody else think Sting is sitting somewhere saying, "Shawn you idiot" after that match last night?


---

I ordered Greed!
Pages: Prev 1 2 3 Next