MoeGates
Boudin blanc



Since: 6.1.02
From: Brooklyn, NY

Since last post: 1 day
Last activity: 1 day

#1 Posted on | Instant Rating: 5.09
PEOPLE. I am back, and it is for one and one reason only: to recap the culmination of my personal vote for the 2017 FEUD OF THE YEAR. I am of course talking 'bout MUSTAFA ALI (my vote for most improved) v DREW GULAK (my vote for best wrestler). How jazzed I am for this? How jazzed? Almost 2000 words jazzed! (be warned).

First up is a recap of the battle of the blands – Please Sign Cedric small packages the jar of mayonnaise in a backward baseball hat (god bless whichever one of you coined that, I forget) to book his spot at Wrestlemania.

We get the preview of tonight's matchup, and Mustafa Ali is kind of soft-selling the "Muslim respectability politics" thing, which I'm not a big fan of. It's just the babyface flip side of the Mohammed Hassan gimmick, which was awful 15 years ago. I'm much more into the "I just wanna make a difference"-era Rikishi Fatu vibe Ali had in his promo a couple weeks ago.

Vic Joseph is wearing a TERRIBLE tan jacket/black shirt combo that looks right out of 1988. Nigel McGuiness's grey three piece is slightly better with his black shirt, but really guys? Nobody has clued you in that the jackets should be darker than shirts? Both also have dreadful checked ties, which I think I've mentioned is easily the worst men's fashion trend of the 2010s.

As a warmup we get Lince Dorado (w/ Mascara Dorada & Kalisto) v Hideo Itami (w/Akira Tozawa). Wait, Tozawa's not the one wrestling? I am not on board with that decision. Tozawa has an all-red outfit that is amazing. I'm so annoyed he's on the apron for this one. Lucha House Party looks like they've made an effort to coordinate masks maybe? It's Yellow, Red, & Green respectively and looks kind of cool.

Announcers are selling this as striking v high-flying, we'll see if that plays out in actuality.

Yup, it's pretty much that, and then Lince hits a corkscrew pescado to the outside which none of the announcers even attempt to call ("up and over" according to Joseph, who btw is the WORST and doesn't even have Graves to properly bury him when needed). Lince then hops up on the announce table, and it looks he's going to follow this up with a moonsault from the announce table? Nope, instead he decides to shimmy & do the "Lu-CHA, Lu-CHA" dance. Boooo.

Hideo gets the upper hand again & goes full disdainful "Is This Your King?" on Lince for a while. Some more back and forth and Hideo eventually gets tossed out of the ring, gets in a small scuffle with Metalik and… that's the bell? What? Very weak in-ring scuffle follows the DQ victory for Itami, and it's fairly clear nobody's heart is really in this feud (I mean, can you blame them?). Itami & Tozawa take a powder with some half-hearted "come at me bro" theatrics on the way out.

Drew Gulak promo package! Gulak is also wearing a grey suit / black shirt / checked tie combo, but somehow looks awesome cause he's Drew Gulak. After a few detours it looks like Gulak is really starting to sink into his character, which is turning out to be "the kid who ruined your bar mitzvah."

Next is a sitdown promo from Please Sign Cedric, which is exactly as cringeworthy as you imagined. Cedric kinda looks down and away at the end & you can all but see the Charlie Brown "sigh" thought bubble appear over his head.

Next is TJP(erkins) vs… a jobber? OK, where is this angle going? Ah, it's about setting TJP up as wanting to be the next #1 contender. Two minutes, detonation kick, kneebar just to be an a-hole, tap, more kneebar just to be a bigger a-hole! The jobber is basically dressed as a banana btw.

Sit down interview with Mustafa Ali, whose hair is actually not totally awful in its dry state. Ali's wearing a pretty stylish print shirt that I'm digging, although he needs to keep it a bit more casual & not button it all the way up. He goes straight-ahead babyface for a while (Ali has become a great babyface promo, which is a really tough skill imo) before getting into "I have a chance to get people to cheer for a guy named Mustafa Ali" and I get the distinct feeling he is doing juuuuuuuust enough with this "Good Muslim" angle to keep Vince off his back about it, who probably wants him coming out on a magic carpet or some shit. I am SO THANKFUL Vince has not caught on that Gulak is Jewish (CONFIRMED FOR THE BEST HANUKKAH EVER Click Here (youtube.com)) and made them work that into this feud.

GAAAAAAAH – Rockstar Spud continues this decidedly un-rockstar look of dark shirt/light jacket jacket (green on black if you must know). He announces a fatal-four way for the #1 contenders slot next week. It'll be TJP v Tozawa v Kalisto v …Buddy Murphy? OK I guess. He ends with "see, I turn a positive into a negative" and I can't tell if that's a genuine botch or if I'm missing something here.

AND HERE WE GO. Gulak is out first, with his new(ish) does-not-make-your-ears-bleed music. Ali is out next & is it me, or is Ali in way better shape lately? I remember him being kind of pudgy. Nigel mentions that Gulak has not yet looked at Ali exactly while Ali & Gulak are staring hole through each other. Is Nigel on time-lag or something? Oh no, he just sucks.

Another bone to pick with the announcers. There is zero mention of these two's history. What the hell? This is a long-term feud. This is Hogan-Piper. Bret-Owen. Rock-Austin. Taker-Kane. Edge-Cena. This (and Tozawa/Kendrick) is what it ALL KEEPS COMING BACK TO & we don't even get a mention? Not OK Nigel & Vic, you guys are the worst.

We get some tasty chain wrestling to start, including a cool spot where Ali retains an armbar through a Gulak body slam. Some back-and-forth-and-URRRMMMPH. Gulak pops up Ali & just DRIVES him face first in to the mat like he's dribbling him. That one deserves a replay & gets it.

Ali with a very cool looking move that I can only describe as a "reaching delayed hurracanrana" and I cannot tell if it's an almost-botch or just the way he does it. Gulak goes for the popup/face slam again but gets caught with a snappy dropkick instead.

Speaking of almost-botches, Gulak has trouble with a bridging pin from an electric chair which is obvious enough a screwup even McGuiness catches it ("slightly off-center there").

Gulak throws, I shit you not, a mandible claw (or "hauls Ali up by the jaw" if you're Vic Joseph). Ali fights back with slaps ("Palm Strikes" if you're McGuiness). This spot is cooler than it sounds, trust me. Ali hits his duck-through-the-ropes overhead kick & (dumb) front-roll-through-the-ropes facebuster spots. I forgive him for this last one though, as he then does a BEAUTY of a pin reversal into a Koji Clutch(!). Joseph even calls it right! Where did that comes from (I'm guessing Gulak showed him that. Wait, Gulak probably told Joseph what it was called too).

OK, here come the high spots. Ali hits a 360 standing-butt-splash from the turnbuckle to the floor. He gets Gulak back in the ring and goes for the 054 (finally a name! It'll do) but Gulak swipes the feet & Ali takes a HELLACIOUS bump off the apron to the floor. Wowzers that looked nasty. Gulak gets a little aggressive on the outside & Joseph says he needs to be careful not to get DQed, but makes no callback to the super-light Hideo Itami DQ from earlier in the night. It's the little things that get you to the PPVs, Joseph! A lot of brawling on the outside & they go to the announce table – it looks like it's Gulak going through…no! Instead Gulak backdrops Ali from the table to the floor! Good grief, Ali is taking some Cactus Jack level bumps here. Gulak then bodyslams/tosses Ali over the barricade into the timekeeper's area, and we're doing the "can he beat the 10 count" spot. I could seriously just watch Gulak toss people around all day. Ali cuts the spot close enough that he gets a "that was 10!" chant from the crowd. Dragon Sleeper! Ali has the ropes though, so Gulak hoists him up for a slam which Ali reverses into a DDT! Goes up for the 054….hits! Three seconds later Ali is going to Wrestlemania!

OK wow. Let's take a step back here. Can you imagine if when the CWC was going on someone told you it would be Cedric Alexander & Mustafa Ali who would get the first Wrestlemania slots? I would have counted them (especially Ali who was just a completely dreadful worker at the time), as contenders for that honor about on the level of Damien Slater & Da Mack. They haven't worked together before either I don't think, so that'll be interesting to see.

Ali-Alexander actually makes a lot of sense for 'Mania I think, especially if they're trying to rebrand the Cruisers as flashy & exciting, as those two are more than capable of a full-on spotfest to kick off the show. Personally I'd be much happier with Ali as champ, as the guy can actually cut a promo, and I imagine the E is getting starry-eyed over the thought of popping some mainstream press with a "first Muslim Champion" story in the wake of Mania (well, we'll go with "first Muslim Champion of the WWE-Network Era" with apologies to Khosrow Vaziri & likely some others I'm forgetting). This is basically confirmed by Ali going full-on MLK (he literally says "it doesn't matter what the color of your skin is!") for the very-obviously-heavily-pre-scripted post-match promo with Dasha.

Review: Great main event, ok show otherwise. Ali & Gulak are just magic in the ring together, and the Ali of today is just light-years better than a year ago. Otherwise they're splitting the baby in the worst way. They aren't developing any interesting feuds or characters, but they also aren't just letting them go out there & light up the crowd. The Announce team seriously drags the show down as well. Right now I can get jazzed for what I know will be cool (witness this recap as reference) but am not really going out of my way to check out anything else.

Hopefully there'll be a reset after Wrestlemania & they'll be able to find a little bit of purpose to the show. Right now it just seem like a modern-day version of Sunday Night Heat, that the Cruiserweight belt may as well be any secondary title, and that it's the place for people on their way down instead of their way up.



---
www.allcitynewyork.com
Promote this thread!
J. Kyle
Banger



Since: 21.2.02
From: The Land of Aloha

Since last post: 217 days
Last activity: 199 days

#2 Posted on | Instant Rating: 3.37
Nous ne nous pouvons pas sortir.
In fairness, while not called during the match, someone (Nigel?) pointed out at the beginning of the night that Ali was Gulak's first Power Point inspired target of New Gulak.

KENTA is nothing but apathy out there but still pretty good, and this show does feel like a weird outlier but...

a few months ago you told us this was the best wrestling show no one was watching and I took that to heart and caught up on 30 something episodes and discovered you were right, and that even before the Enzo ouster it had great matches.

It's biggest problem was repetition and the new blood from the UK/NXT has fixed that.

Hopefully the rumored tag titles turn out to be Trios Titles and Tozawa/KENTA add a third Japanese guy to the team, the show continues to be tournament based (Trios tourney to crown champs, then a Young Lions type newbie tourney and so on) and the show continues to be it's own thing, but in a not "Kind of Purgatory for Smaller wrestlers" kind of way.


---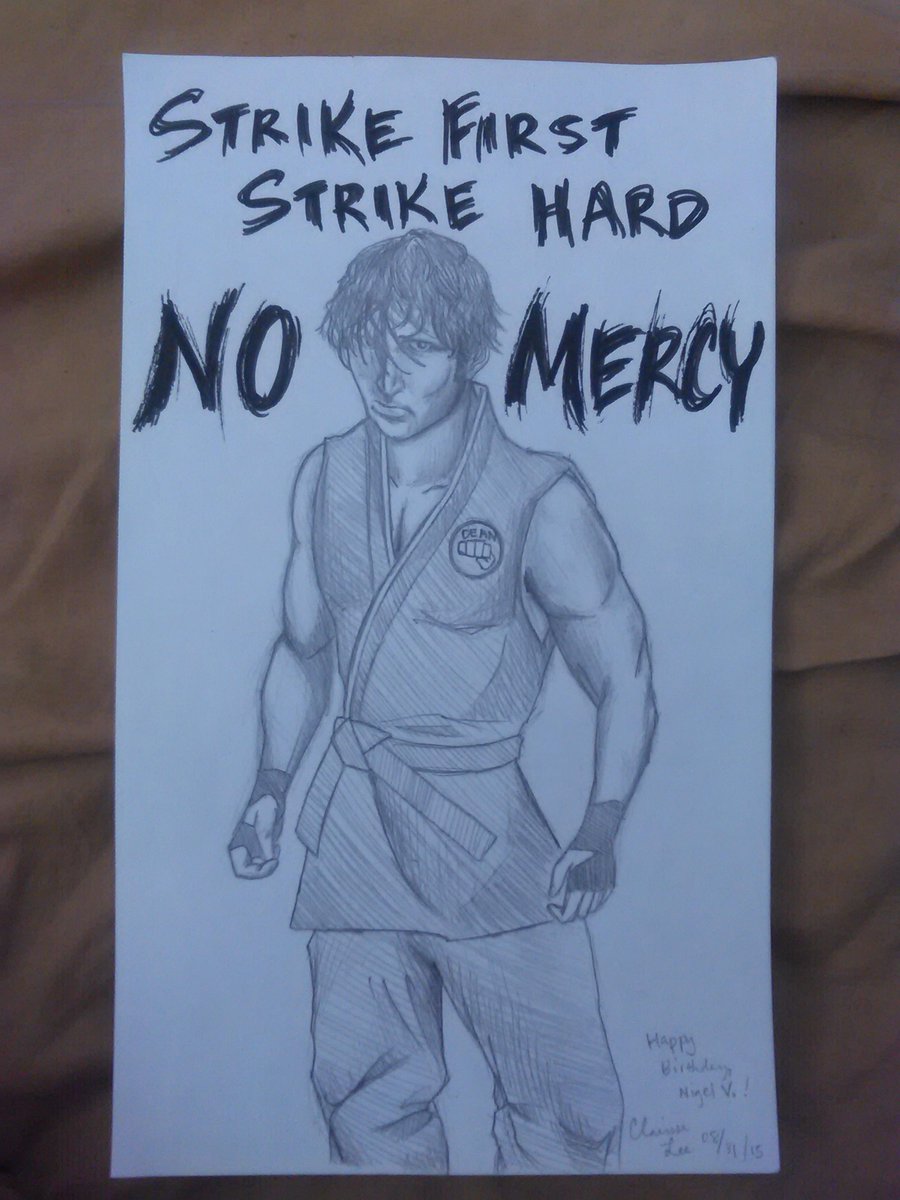 This is a picture of Dean Ambrose in a Cobra Kai Gi.