It's False
Scrapple



Since: 20.6.02
From: I am the Tag Team Champions!

Since last post: 845 days
Last activity: 92 days

#1 Posted on | Instant Rating: 6.83
And these are the standings at the halfway point of 2011:

AL EAST
BOSTON 55-35 -
NEW YORK 53-35 -- 1 GB
TAMPA BAY 49-41 -- 6 GB
TORONTO 45-47 -- 11 GB
BALTIMORE 36-52 -- 18 GB

Those opening weeks just don't matter like they used to. After that hideous start, Boston now has the best record in the AL. That clearly makes them the favorites to reach the World Series. The Yankees are interesting in that (as far as I know) they don't have anybody hitting over .300 and no reliable starting pitcher outside of Sabathia (NO, Bartolo Colon doesn't count!), yet somehow are still near the top again. This defies logic. Almost as illogical as the Rays still competing without Crawford or Garza, and yet there they are.

AL CENTRAL
DETROIT 49-43 -
CLEVELAND 47-42 -- .5 GB
CHICAGO 44-48 -- 5 GB
MINNESOTA 41-48 -- 6.5 GB
KANSAS CITY 37-54 -- 11.5 GB

Gotta love how the Twins make it harder for themselves every year, but I think their 2nd half magic has run out and they're not going to make up this deficit. I originally picked Cleveland to win this division, but I'm not entirely sold on them after that awful month of June. This division should be Detroit's to lose, unless something happens to Cy Young-favorite Justin Verlander.

AL WEST
TEXAS 51-41 -
LOS ANGELES OF ANAHEIM 50-42 -- 1 GB
SEATTLE 43-48 -- 7.5 GB
OAKLAND 39-53 -- 12 GB

Texas has 50 wins by the break again, remarkable considering they were without Josh Hamilton for a while. The Angels staying as close as they are is encouraging to me, as a fan, and they're one bat away from taking this division. Maybe that bat will come in the form of heralded prospect Mike Trout, but they'll probably need someone more experienced. I'm just happy the Angels are able to compete after FINALLY coming to terms with the fact that Tampa Bay completely fleeced them on the Kazmir deal.

NL EAST
PHILADELPHIA 57-34 -
ATLANTA 54-38 -- 3.5 GB
NEW YORK 46-45 -- 11 GB
WASHINGTON 46-46 -- 11.5 GB
FLORIDA 43-48 -- 14 GB

I hate being right about things like injuries, but I knew someone from that Big Philly 4 was going down for the season. Happy trails, Roy Oswalt. Still, Philly's the most dangerous team in the NL and there's no reason to believe the playoffs won't come down to them and the Giants again. And just like last year, it'll be a total toss-up.

NL CENTRAL
MILWAUKEE 49-43 -
ST. LOUIS 49-43 -
PITTSBURGH 47-43 -- 1 GB
CINCINNATI 45-47 -- 4 GB
CHICAGO 37-55 -- 12 GB
HOUSTON 30-62 -- 19 GB

It's going to be interesting to see what Milwaukee does, but it's pretty obvious they'll be riding out Prince in his contract year. The division comes down to Prince in his contract year versus Albert in his contract year. And there's always the possibility of Pit...wait...PITTSBURGH is a game back? The PITTSBURGH PIRATES are a game out of first place at the break? Holy crap! I'm completely speechless!

NL WEST
SAN FRANCISCO 52-40 -
ARIZONA 49-43 -- 3 GB
COLORADO 43-48 -- 8.5 GB
LOS ANGELES 41-51 -- 11 GB
SAN DIEGO 40-52 -- 17.5 GB

No. I'm still speechless by Pittsburgh. I'm legit shocked by that. And being in a daze about the Pirates is a whole lot less depressing than talking about the Dodgers and their ownership situation.

The World Series is...unpredictable right now. Like I said, it's a toss-up in the NL between Philly and San Fran. And in the AL...well, it's going to depend on who comes out of the AL West. If the Rangers win the division, they'll take out the Red Sox. If the Angels win, Boston will own them yet again. Assuming the NFL and NBA don't get their shit together, it'll be nice to have ONE postseason to look forward to.


---
Promote this thread!
redsoxnation
Scrapple



Since: 24.7.02

Since last post: 2569 days
Last activity: 2569 days

#2 Posted on | Instant Rating: 5.27
Said the Twins could be 40 games out at the all-star break, and they tried their hardest to get there, and still win the division, so I'll stick with it. They had an absolutely evil home/road split the first 60 games of the year.
How can the Orioles be 18 games out of first place? They have Buck Showalter and his 10 foot image in the MASN booth, that should be worth an extra 15 games right there.
Thought the Angels were dead a month ago. Someday, the Mariners might learn to count to 4.
Anyone who thought the Jolly Roger would be raised this many times at this point in the season is lying.
The most overlooked item of the Dodgers going bad: Mattingly is a loser. Always has been, always will be.

DrDirt
Banger



Since: 8.10.03
From: flyover country

Since last post: 991 days
Last activity: 893 days

#3 Posted on | Instant Rating: 9.71
I thought the Tribe was at least a year away. Hopefully, July will be kinder but I think Detroit should win.


---

Perception is reality
AWArulz
Scrapple



Since: 28.1.02
From: Louisville, KY

Since last post: 4 days
Last activity: 2 days

#4 Posted on | Instant Rating: 4.65
I am surprised at:

The Pirates. Clearly the shock of the season so far.

The White Sox - I expected better from them, but pitching and a nearly comatose Adam Dunn have sunk them

The Braves - really thought they were .500 this year.

I am not surprised at

The cubs - they suck worse than everyone said, but I was pretty sure Quadde had nothing. A couple of less dim spots, but noth much

The Red Sox - Too much talent to seem as bad as they were in April and Early may.




---
We'll be back right after order has been restored here in the Omni Center.
That the universe was formed by a fortuitous concourse of atoms, I will no more believe than that the accidental jumbling of the alphabet would fall into a most ingenious treatise of philosophy - Swift
CRZ
Big Brother
Administrator



Since: 9.12.01
From: ミネアポリス

Since last post: 12 days
Last activity: 4 days


ICQ:
#5 Posted on | Instant Rating: 9.39
THE TWINS MAGIC NUMBER IS NOW: 80


---

BigDaddyLoco
Scrapple



Since: 2.1.02

Since last post: 88 days
Last activity: 87 days

#6 Posted on | Instant Rating: 4.00
If the Mariners could just pick up a quality bat. Such a waste of good pitching.


edoug
Summer sausage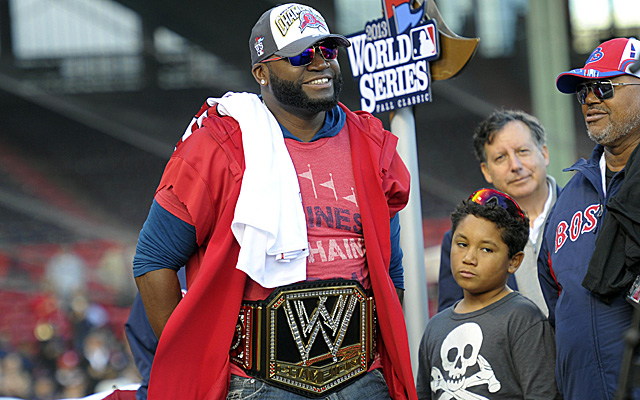 Since: 13.2.04
From: Maine

Since last post: 1852 days
Last activity: 1 day

#7 Posted on
Nice recap by everybody. I have nothing to add other than, Who are the first half award winners?

MVP

AL- Adrian Gonzalez. Yeah Bautista has been great but watching Gonzalez has been amazing.
NL- Prince Fielder. The NL is certainly harder Berkman, Kemp Reyes and Andrew McCutchen all should be mentioned.

Cy Young

AL- Justin Verlander. Weaver has been terrific but Verlander has been filthy
NL- Jair Jurrjens. How can you not vote for Jair, really now.

Rookie of the Year

AL- Jeremy Hellickson. Just barely ahead of Michael Pineda
NL- Danny Espinosa. Freddie Freeman should also be considered.

Manager of the year

AL- Terry Francona. Yeah you could give it to Manny Acta, Joe Maddon of Mike Scosia but I can't fathom how Francona has never won it.
NL- Clint Hurdle. The Pirates have talent and Hurdle has helped them realize it. Fredi Gonzalez is another good candidate.





---
Big Bad
Scrapple



Since: 4.1.02
From: Dorchester, Ontario

Since last post: 572 days
Last activity: 141 days

#8 Posted on | Instant Rating: 6.59
Originally posted by edoug

---

MVP

AL- Adrian Gonzalez. Yeah Bautista has been great but watching Gonzalez has been amazing.

---


Other way around. Gonzalez is a great player, but Bautista is legit amazing. Pretty much everyone expected him to at least somewhat come back to earth after his incredible 54-homer year last season --- even his biggest supporters thought a 40-dinger year was the ceiling. Instead, Bautista is on pace to hit MORE homers this year. Factor in his solid baserunning, throwing arm and defense (at both third and right field), and he is the best player in baseball right now.

That said, he won't win the MVP since the Red Sox will win the division and thus Gonzalez will get more publicity.


---

"It breaks your heart. It is designed to break your heart. The game begins in the spring, when everything else begins again, and it blossoms in the summer, filling the afternoons and evenings, and then as soon as the chill rains come, it stops and leaves you to face the fall alone." --- Bart Giamatti, on baseball
Joseph Ryder
Head cheese



Since: 19.3.02
From: Seattle, WA

Since last post: 3288 days
Last activity: 2821 days

#9 Posted on
AL yeah, as of now it's Bautista and it's not really that close either. Bautista's been worth nearly two more wins than Gonzalez, and that's even with Gonzalez getting more credit for D.

NL, I think it's between McCutchen and Kemp, I guess. Give it to McCutchen on the tiebreaker that his team of nobodies are a game out of the Central.

Agree about Verlander.

Jurrjens' 1.87 ERA is pretty but not sustainable. I'd bet dollars to donuts that all of Phi's big 3 will wind up ahead of him there since all 3 have actually pitched better so far. Way more Ks, less BBs, and more IP. Give it to their horse, Halladay.


---

I run (and tweet!)
jfkfc
Liverwurst



Since: 9.2.02

Since last post: 1532 days
Last activity: 1341 days

#10 Posted on | Instant Rating: 7.91
Originally posted by It's False

---

(NO, Bartolo Colon doesn't count!)

---
AL Comeback Player of the Year, in a tie with Freddy Garcia.

AL Cy looks like Verlander or Weaver, but CC is close. Also Granderson for MVP behind Gonzalez and Bautista, who are both off the charts. Just to throw him out as an AL ROY candidate: J.P. Arencibia.

NL Cy, I'd vote for Jurrjens, because I really enjoy saying his name...I mean, it's like a cool hockey name (Esa Tikkanen, Teemu Selanne, Jaromir Jagr, Jair Jurrjens...).