redsoxnation
Scrapple



Since: 24.7.02

Since last post: 1820 days
Last activity: 1820 days

#1 Posted on | Instant Rating: 4.13
National League Division Series

Astros vs. Braves: Astros in 4. The rookies hit the wall for the Braves, and the lack of a true closer really hurts.

Padres vs. Cardinals: I'm sticking with my preseason pick. Padres steal Game 1 and home field, win series in 4.

American League Division Series

Yankees vs. Angels: The team the Yankees really didn't want. Will survive the series, but will have to take the double West Coast trip. Yankees in 5.

Red Sox vs. White Sox: I'm really going to be unbiased on this one. However, a thank you for the prevention of C. Montgomery Burns plan to block out the sun, the implimentation of which may have caused the Indians to get in the playoffs. I know Contreras has been dominant late in the season, but I'd rather see him then El Duque. Red Sox in 4.

National League Championship Series

Astros vs. Padres: Team mediocre gets home field. Clemens spits the bit in Game 7 yet again. Padres in 7.

Red Sox vs. Yankees: There will be a rain out during the middle 3 games at Fenway. It rains that weekend in Boston. It will go 7. Red Sox win on an A-Rod error in the 10th. Bernie flies out to the wall in right to end it. Boston in 7.

World Series

Padres vs. Red Sox: The magical mystery tour of the sons of Dave Roberts comes to an end. Padres put up a respectable fight. Red Sox in 6.



(edited by redsoxnation on 2.10.05 1834)
Promote this thread!
BigSteve
Pepperoni



Since: 23.7.04
From: Baltimore, MD

Since last post: 4182 days
Last activity: 3910 days

#2 Posted on | Instant Rating: 3.06
Originally posted by redsoxnation

---

I'm really going to be unbiased on this one.

---
---

World Series. . . Red Sox in 6.

---


HA!

All kidding aside, I usually think that with few exceptions these series will come down to who has the best starting pitching with at least an adequate offense and a strong back end of the bullpen (at least a dominant closer).

NLDS will be the Cards winning their series in three because I can't take a .500 team over the only 100 win team in baseball. In the other series, I'll go with the Astros over the Braves in four. Think about this: the easiest matchup for the Braves in a five game series is a potential game three against twenty game winner of back-to-back seasons (and the quietest superstar pitcher in the majors) Roy Oswalt. Meanwhile Hudson has been good for the BRaves but not great, and Smoltz probably doesn't have too many more innings in his arm this year. Lidge versus Reitsma in the closes spot is a no contest for Houston.

Yanks beat the Angels in four in a series where I go against my trend of picking teams with better starting pitching. Lackey, Washburn, Colon, and Byrd have been better than any Yankees starter over the course of the season, but with Riveira and Gordon the Yankees can turn it into a six or seven inning game. They have much more offensive firepower and Johnson has been great down the stretch.

In the other series I'll go with the White Sox in four to beat the Red Sox. This is the pick I'm most unsure about right now, but I think that Garland-Contreras-Buerhle is better than any starter that the BoSox can throw out there. If Schilling were Schilling, I'd go with Boston, but he's not so I won't.

NLCS - 'Stros beat the Cards in five. I don't trust the Cardinals with the way that Morris, Carpenter, and Mulder have pitched recently. Clemens showed a lot in beating the Cubs last night so I think that any questions about his health can eb put to rest - for now.

ALCS - New York over Chicago in five. Chicago has been terrible down the stretch and the Yankees are the Yankees. I give Chicago a shot to beat Boston in a five game series, but not a shot to beat the Yankees in a seven game series. Boston would be a muich bigger challenge than the White Sox.

World Series - Yankees vs Astros. Game 7: Rocket vs Big Unit. Clemens pitches a great game and helps Houston win their first World Series. I may not be a fan of his, but that's the way a player of his caliber ought to leave the game (I realize the chances of this exact scenario happening are slim, but I'll stick with Houston in seven).
BOSsportsfan34
Pepperoni



Since: 2.1.03
From: MA

Since last post: 821 days
Last activity: 152 days

#3 Posted on | Instant Rating: 4.52
National League...

NLDS
Astros vs. Braves: Astros win 3-2
Cards vs. Padres: Cards win 3-0

NLCS
Cards vs. Astros: Cards win 4-2

ALDS
White Sox vs. Red Sox: Red Sox win 3-1
Angels vs. Yankees: Angels win 3-2

ALCS
Angels vs. Red Sox: Angels win 4-2

World Series
Angels vs Cards: Cards win 4-2

(edited by BOSsportsfan34 on 2.10.05 2031)

---
edoug
Summer sausage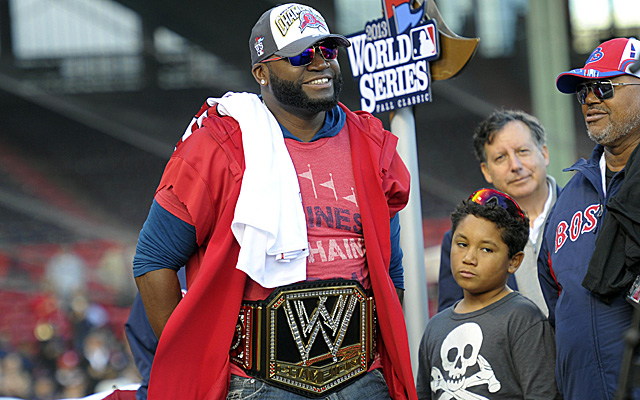 Since: 13.2.04
From: Maine

Since last post: 1103 days
Last activity: 62 days

#4 Posted on | Instant Rating: 4.00
Chicago in 4. I want the Red Sox but don't trust Clement and Schilling's inconsistent.
Angels in 4. Johnson gets the only win for NY.

Angels in 6. LAA just too much experience for Chicago

Cards in 3. The first game starts at 10 am San Diego time. Just as well. Padres just happy for the brief stay.
Astros in 5. Houston just a little better.
Cards in 6. Card are the best team in the N.L.

Angels in 6. Cardinals pitchers won't be able to shut down the Angels offense.



---
StaggerLee
Scrapple



Since: 3.10.02
From: Right side of the tracks

Since last post: 4 days
Last activity: 1 day

#5 Posted on | Instant Rating: 2.39
As much as I would like to say the Yankees will sweep everybody in each series, beating the Cards at Busch with me in attendence, wearing my yankees gear, reality tells me the Red Sox, if thier bullpen can hold it together, will probably repeat, over the Braves.
Gugs
Bierwurst



Since: 9.7.02
From: Sleep (That's where I'm a viking)

Since last post: 1859 days
Last activity: 987 days

#6 Posted on | Instant Rating: 4.95
Braves over Astros in 4 (Kyle Farnsworth has been their closer for a while, not Chris Reitsma)
Cardinals over Padres in 4 (Pads steal one at Petco)
Red Sox over White Sox in 4
Yankees over Angels in 4

Cardinals over Braves in 6
Red Sox over Yankees in 7

Red Sox over Cardinals in 6


---

"He is the most overrated piece of crap in the league. He bitched and whined after he got his ass beaten in New England last year, so the NFL changed the rules. Then he got his ass beaten in New England again. Every year he's the top MVP candidate. Every year he's supposed to be the best. Every year he's going to carry the Colts to the Super Bowl. And every single year he goes to New England and gets his ass beaten. And his brother's a whiny little bitch." -A friend of mine, on Peyton Manning

1,000 (bushflash.com)
jfkfc
Liverwurst



Since: 9.2.02

Since last post: 783 days
Last activity: 592 days

#7 Posted on | Instant Rating: 4.06
Pats self on back for being close, anyway (The W)

Division Series
Yanks over Angels in 5
(Mussina, Chacon, Unit, and Small against Colon, Washburn, Lacky and Santana/Byrd, I like my chances. Remember that the Yanks bullpen is now a better one, with Leiter, Wang, and Wright instead of Wayne Franklin, Felix Rodriguez, and Scott Proctor. Now that Randy is pitching like the guy the Yanks meant to acquire, its up to Moose to be the Mussina from last year's playoffs. Then, Chacon and Small - 'nuff said)
Boston over Chicago in 4
Cards over Padres in 4
Houston over Atlanta in 5

Championship Series
Yanks over Boston in 7
Cards over Houston in 6

World Series
Yanks over Cards in 5


---

Oderint dum metuant.
whatever
Bierwurst



Since: 12.2.02
From: Cleveland, Ohio

Since last post: 75 days
Last activity: 1 hour

#8 Posted on | Instant Rating: 4.16
Who cares anymore?


Hell, I'd root for the Red Sox, but after last year I was all pumped for the Tribe to re-create their feel-good story. Now that the dream is over for this year, they've already done the "long-time loser" schtick and are looking to repeat. I cannot have that.

I also stand by the "Aw screw it, anyone but the Yankers!" mentality. The Angels do absolutely nothing for me, and have won a series recently too.

This Tribe fan has now been reduced to rooting for... the White Sox?!? Oh come on. The only thing I enjoy lately is when Jenks is in and balls are flying 100mph out of the park.

So I guess this is the year I root for the NL. Braves? HAHAHAHAHAHAHAHA... no. Houston has Clemens, and I like him post-Yankers. St. Louis needs to recover from last year's debacle. San Diego - you finish two games over .500 and get into the playoffs while my 93-win Tribe goes home? OUT with you.

So, in summary:
Houston over Atlanta
St. Louis over San Diego

St. Louis over Houston

St. Louis over, oh I don't know, the White Sox. Just to really humiliate them.


---

"Lita holds a Stone Cold Steve Austin home pregnancy test. What will the Bottom Line say? "Hell Yeah" or "Eh-EH"?" - Raw Satire, 6/15/04
(Apparantly ours said "Hell Yeah", 03/08/05)
TheBucsFan
TheChiefsFan



Since: 2.1.02

Since last post: 1413 days
Last activity: 1413 days

#9 Posted on | Instant Rating: 4.42
Originally posted by BigSteve

---

NLDS will be the Cards winning their series in three because I can't take a .500 team over the only 100 win team in baseball.

---


The Padres won their season series with the Cardinals. I think they also won the season series against Houston and Atlanta, as well. I'd like to see the Cardinals walk over them en route to avenging last year's World Series embarassment, but don't take the Padres for granted against anyone. They may have gone .500, but they did still win their division. You don't do that without being able to win some big games.

That aside:

Cards in 3
Braves in 4
Red Sox in 4
Yanks in 4

(edited by TheBucsFan on 3.10.05 1403)
spf
Scrapple



Since: 2.1.02
From: The Las Vegas of Canada

Since last post: 966 days
Last activity: 386 days

#10 Posted on | Instant Rating: 5.57
First I'd like to say congratulations to me for getting all 6 division winners and the AL Wild Card correct (The W)

That said...the playoffs.

CHI vs BOS: This whole thing comes down to pitching. Boston has 1000X more offense than the White Sox, but if Contreras, Buehrle, Garcia, and Garland pitch the way they're capable of doing, they can shut down that team. Right now there is no better pitcher in baseball than Contreras...if he stays that way, pitching twice in a 5 game series, it could be tough for Boston. Chicago in 5.

NYY vs LAA: It seems like it is going to get to a point where the Yankees run out of miracles from guys like Shawn Chacon and Aaron Small. To me this series hinges on what condition Vlad Guerrero is in. If he's not 100%, it's going to be tough for LA. I'm going to say New York in 4.

SD vs STL: Much like with the Sox vs. Sox series, one good pitcher could turn the tide here. Could it be Jake Peavy? Sure, why not? San Diego in 5.

ATL vs. HOU: Hard to go against Houston's pitching staff in a short series. Or a long series. Houston in 4.

ALCS: Chicago vs. New York: Take analysis of Boston vs. Chicago series. Insert New York for Boston. Chicago in 6.

NLCS: San Diego vs. Houston: Too much Clemens. Too much Pettite. Too much Lidge. Houston in 5.

World Series: I know what I would like to see happen here. But I'm not going to type it. I just can't do it. I'll just say Houston loses in 6 games.


---
too-old-now
Bockwurst



Since: 7.1.04

Since last post: 2639 days
Last activity: 1564 days

#11 Posted on | Instant Rating: 4.03
Predictions -

American League

NY over LAA in 5
ChiSox over BoSox in 5

NY over Chicago in 6

National -

Cards over Padres in 4
Astros over Braves in 4

Astros over Cards in 7

Yankees will lose 2 games each to Clemens and Pettite, and go down in 7.


It's False
Scrapple



Since: 20.6.02
From: I am the Tag Team Champions!

Since last post: 96 days
Last activity: 34 days

#12 Posted on | Instant Rating: 3.16
ALDS
Yankees/Angels
If Aaron Small and Shawn Chacon can outpitch big-game guys like Bartolo Colon and John Lackey, I'll eat my Angels hat. It all hinges on starting pitching, which the Yankees don't have (except for Johnson). The Angels even have a safety net with Escobar and Santana pitching out of the bullpen. The key for the Halos? The Yankees offense MUST be contained! I'm faithful to the Angels and will go with them in 4.

Red Sox/White Sox
The White Sox late season slide can't be ignored and the Red Sox, after having the division slip from their fingers, will be out for blood. Ortiz and Ramirez feast on the inconsistant Garland and Buehrle and the Red Sox win in 3.

NLDS
Cardinals/Padres
Oh lord, NEXT! Cardinals in 3.

Astros/Braves
Braves choke again. If Atlanta gets ANYTHING against Clemens, Pettite, and Oswalt, I'll be shocked! Astros in 3.

ALCS
Angels/Red Sox
The Angels haven't forgotten last year's humiliating sweep and are ready for this postseason rematch. The Angels' smallball will overcome the Red Sox bullpen, as they just keep pulling off those late rallies. Angels in 5.

Cardinals/Astros
The Clemens/Pettite/Oswalt and Carpenter/Mulder/Morris rotations cancel each other out. Prince Albert tips the scales in favor of the Cards. Cards in 6.

World Series
Cardinals/Angels
I love my Angels and they'll put up a great fight. But I don't know if even THEY can overcome the obscenely powerful rotation and lineups of the St. Louis Cardinals. Carpenter and Mulder combine for a game 7 win. Cardinals in 7.


---

And you thought selling Amway was his career lowlight?
Wpob
Bierwurst



Since: 21.11.02
From: Williston Park, NY

Since last post: 4 days
Last activity: 3 days

#13 Posted on | Instant Rating: 1.46
ALDS

Yankees v. Angels

I hate the Yankees. I really do. But something about this team scares me. They have yet to really turn it on and I feel they are getting hot at the right time. It's not the Red Sox so the rivalry effect is not there. I am taking the Yankees in three. They are ready. I am not sure if the Angels are going to know what hit them.

Red Sox v. White Sox

Somehow, FOX works its magic and get the Red Sox a win here. Red Sox in 5. FOX sweats it out as FOX knows a Yankees/Red Sox rematch is must see TV while a Yankees/White Sox TV gets me to change the channel fast.

Padres v. Cardinals

If I am the Cardinals, this is the one team I did not want to face. San Diego has the Us vs. the World mentality and St. Louis has all the pressure on them. I am taking the padres in 4 as they psplit in St. Louis and sweep at home.

Astros v. Braves

Too much pitching for the Astros to lose. The BRaves have too many young players in their first real post season action. Astros in 4.

Yankees v. Red Sox

Did I mention I hate the Yankees? Well, as much as I hate the Yankees, I do not think I can stomach another year of the Red Sox. Not the classic of last year as the Yankees take it in 5.

Padres v. Astros

This will be lopsided. The Padres will be just happy to justify being in the playoffs by beating the Cardinals that they will get run over by the Astros. In 5, the Astros.

Astros v. Yankees

I think the Astros will win in 6, but what I really want to happen is the Astros to come back to NY down 3-2 and have Pettitte win game 6 with a complete game and Rocket to come in for game 7 and shut the Yankees down for a complete game shutout. Astros in 7, Roger and Andy celebrate in hallowed Yankee stadium and the Boss weeps in the owners box. Ah to dream.


---

You can do it Otto! You can do it Otto!

Make this spare, I'll give you free gelato!

Then back to my place where I will get you blotto!

Domo arigato, Mister Roboto!
TheCow
Landjager



Since: 3.1.02
From: Knoxville, TN

Since last post: 3791 days
Last activity: 3790 days

#14 Posted on | Instant Rating: 7.00
Oops, I'm slightly late on this.

Anyway:
National League:
Padres v Cards:

Cards in 4. Pads will take a token game somewhere in there, but that's it.

Astros v Braves:

'Stros in 3. There's always one sweep, this might as well be it.

NLCS (Astros v. Cards):

'Stros in 6. All these crazy wild card teams just keep making the World Series.

American League:
Red Sox v. White Sox

White Sox in 5. Red Sox bullpen = scary. And not in the good way, either.

Yankees v. Angels

Angels in 4. Who remembers 2002? Anybody?

ALCS (Angels v. White Sox):

Angels in 7. Bud Selig slits his wrists in the middle of the series, because he's not as good as David Stern and can't determine winners.

World Series (Angels v. Astros):

Angels in 5. Sorry, can't root for Roger (even though he carried my WHIP/ERA in my NL league, I held my nose).


---
Harry Caray: Not a Zombie
Texas Kelly
Lap cheong



Since: 3.1.02
From: FOREST HILLS CONTROLS THE UNIVERSE

Since last post: 265 days
Last activity: 27 days


ICQ:
#15 Posted on | Instant Rating: 3.10
Well, I called Yankees v. Astros back in April (The W), and I certainly can't go back on that now.


DIVISION SERIES
Yankees over Angels in 4
White Sox over Red Sox in 4
Cardinals over Padres in 4
Astros over Braves in 5

LEAGUE CHAMPIONSHIP SERIES
Yankees over White Sox in 6
Astros over Cardinals in 7

WORLD SERIES
Yankees over Astros in 6


---
read a bunch of incoherent nonsense
now 52% more incoherent!
smark/net attack Advisory System Status is: Elevated
(Holds; July 5, 2005)
It's good to see that the WWE isn't backing away from Batista or Cena. There's still some questions lingering over a few of the draft moves they either made or didn't make (Jericho being a prime example), but the stage is set for a solid run to Summerslam that may send the indicator down. The longer Triple H stays away is also a plus...