HomerJFong
Ten Millionth Hit



Since: 19.3.02
From: Ontario, Canada

Since last post: 4010 days
Last activity: 2836 days

#21 Posted on
Originally posted by Mr Heel II


---




I had zero interest in the Bischoff/Austin stuff tonight.



---


It wasn't funny a few years back when Vince, Patterson & Brisco were going through Texas bars hunting for Austin. It was even less so with Bischoff trying to play the straight man. Hmm. That one aired just a smidgen over 4 years to the date of last night's show.


---


Jericho in a feud that's…interesting! Test in a feud that's…interesting! Christian in a feud that's…interesting!


---


I was worried when the opening segment featured two of the duller personalities. But, there was some great bumping from Christian during this segment, and good intensity from Test. Stacy still couldn't act her way out of a wet paper bag if you spotted her a machete.




---
Find out which Buffy villain you are most like!
tomvejada
Andouille



Since: 2.1.02

Since last post: 5409 days
Last activity: 5409 days

#22 Posted on
Random Raw Thoughts:

I don't think WCW ever did a Spanish simlicast.

I liked Victoria-Molly. I like this Jazz-Victoria storyline.

That part with Buford was weird. Those "actors" at the Longshore Saloon sucked.

I also liked the Michaels-Hardy storyline.

Chris Jericho saved the Jericho-Steiner match.

Overall, another so-so RAW.


---

"I just got pinned by a friggin twelve-year-old."

Kurt Angle

JWstorm
Kolbasz



Since: 23.10.02
From: Tarheel State

Since last post: 4387 days
Last activity: 3665 days

#23 Posted on
Favorite WRestler of all time in the ring with my favorite of this time-
and he kicks the shit out of him and we have to see Shawn Michaels gay ass grin. Im really not feeling Michaels this time.

I really wanted to get behind Test tonight with that beatdown, and i Did. i think this has a major chance of getting him over, bc for the first time ever i actually care about what he is doing and not just so i can look at Stacey although that has its positives.

Victoria is just straight up hot as hell...

Steiner was quite boring tonight, but not RR03 boring. Jericho put together a great match w the guy though.'

oh yeah didnt that long legged broad behind booker T and Goldust look a whole lot like Stacey... im gonna have to check the tape

(edited by JWstorm on 4.2.03 0529)

---

If someone gets urinated upon do they get pissed off or pissed on?







How BLACK are you?

Brought to you by the good folks at sacwriters.com.

MollyFan2K2
Blutwurst



Since: 26.6.02
From: Ware, MA

Since last post: 4051 days
Last activity: 3997 days

#24 Posted on
My thoughts on Raw

Tuned in late and didn't see Raw en espanol or the Jericho/Test/Christian thing.

I don't like watching Three Minute Warning on my television screen. They just provoke a desire in me to do something else. That being said, I liked the split-legged moonsault. The match was short, but that was a problem a lot of matches had tonight.

Stevie Richards' character is interesting, and he's pretty good in the ring. I'm turning more and more into a Richards mark.

I really really liked the Victoria/Molly match. It was really fun and fast paced. Jazz is really an awesome worker too. I've got my fingers crossed that this leads to a Molly face turn. I think perhaps Molly's flowy shirt was to accentuate all the flips and motions she did, but it was a bit wierd. I loved the blue velvet pants though.

Evolution isn't such a bad name. The group shows some promise, but I still think they need another member.

I really liked the breakup of Booker and Goldust. No shocking swerve, no misplaced anger, just two guys who agree to go their seperate ways. I don't know about anyone else, but this got me real sympathetic to Goldust so when Orton and Batista did their beatdown and electrocution I was totally into it and going along with it.

RVD/Kane was pretty good, and Jeff running in on both of them was pretty interesting. I thought it was simply HILARIOUS how Jeff ran right into Shawn's boot.

Bischoff's Quest(tm) was hit and miss. I think Bischoff's whole character is great and it was great to see him "let loose on Texas". On the other hand, the endless stream of Texans was a bit trying on the nerves.

I am a big big Jericho fan. On the other hand, when I watch Stiener I feel like I am wasting my time. Put them together and you have an average match, which was made better by Jericho's over the top heel acting. More people should bring a little more character into their matches like he does. Hell, at least D'Lo gets a little vocal in the ring even though he isn't the best technically.

Overall I liked this show. Jericho, Molly, Victoria, Jazz, T and Goldie, and Bischoff made my show last night.


---

A shark on whiskey is mighty risky, a shark on beer is a beer engineer.

RecklessEric
Head cheese



Since: 23.1.02
From: Maine

Since last post: 178 days
Last activity: 178 days

#25 Posted on
Here's the part I found funny. Bischoff did not know what Austin's address was. Isn't Austin the guy who was fired by Fed-Ex? Well the only excuse for that would be Austin made a ton of money post Bischoff(hey, a storyline!)and has since moved to a great big ranch with guys like Buford hanging out.

Stupid run-on sentences.


---

OOPS! You bwoke it.

The requested URL was not found.

We're sorry, you did something wrong.

Some possible reasons for this error are listed below:

The page you have requested no longer exists.
You have your head up your stupid, ugly butt.
The page you have requested has been moved.
Your crappy computer is full of crap, crap, and more crap.
The web site you are trying to reach no longer exists.
Homestar is a stupid crap for brains webmaster.
____________________

Absolutely NOTHING important happens on the internet
Wpob
Bierwurst



Since: 21.11.02
From: Williston Park, NY

Since last post: 27 days
Last activity: 54 min.

#26 Posted on
HHH v. Steiner? Groan. Another PPV I will not buy due to a lousy ME. Steiner was awful in the match with jericho last night and the only reason the match was remotely watchable was Jericho'a ability to make Steiner look good. I would have loved to have seen Jericho win and take on HHH at NWO. That would have left Stenier to a match with Batista. And with Booker to take on Orton, that would have been three solid matches. Possibly, they could have had Christian and Test. But now, we are staring down the barrell of Jericho facing Test (ugh), Steiner and HHH (UGH) and Booker T jobbing out to Batista or orton (UGHUGHUGH).

If Booker jobs to batista or Orton, I may never turn on RAW again.




---

So I jump ship in Hong Kong and make my way over to Tibet, and I get on as a looper at a course over in the Himalayas. A looper, you know, a caddy, a looper, a jock. So, I tell them I'm a pro jock, and who do you think they give me? The Dalai Lama, himself. Twelfth son of the Lama. The flowing robes, the grace, bald... striking. So, I'm on the first tee with him. I give him the driver. He hauls off and whacks one---big hitter, the Lama---long, into a ten-thousand foot crevasse, right at the base of this glacier. Do you know what the Lama says? Gunga galunga... gunga, gunga-galunga. So we finish the eighteenth and he's gonna stiff me. And I say, "Hey, Lama, hey, how about a little something, you know, for the effort, you know." And he says, "Oh, uh, there won't be any money, but when you die, on your deathbed, you will receive total consiousness." So I got that goin' for me, which is nice.

GRL
Frankfurter



Since: 13.7.02
From: Austin

Since last post: 74 days
Last activity: 11 days

#27 Posted on
My Random stuff:

I actually REALLY LIKED parts of Raw tonight, and I haven't liked very many parts of Raw for the past several months.

The Victoria/Molly match followed by the Jazz beatdown was fantastic. I love this story, and I WANT to see where it goes. Where does Trish fit in? What about when Lita comes back? Huh? Huh?

Immediately after this segment, they have the first Goldust Booker T segment of the night, and it was fantastic. Goldust has been on fire with this run, and this story is fantastic. This has money written all over it.

Loved the HBK/Jeff Hardy segment, even if Jeff did give one of the worst promos of all time. Someone please teach him how to talk.

RVD/Kane was a fun match to watch.

Steiner being thrown into the steel steps and yelling "Ow!" was priceless.
skorpio17
Morcilla



Since: 11.7.02
From: New Jersey

Since last post: 3745 days
Last activity: 3745 days

#28 Posted on
Originally posted by HomerJFong

---



It wasn't funny a few years back when Vince, Patterson & Brisco were going through Texas bars hunting for Austin. It was even less so with Bischoff trying to play the straight man. Hmm. That one aired just a smidgen over 4 years to the date of last night's show

---


I knew that scene looked familiar. I was waiting for the APA to be in one of those bars. Bischoff should've used some of his karate kicks.

Golddust got electricuted. I think Mankind got hit with the same electrical thing in a PPV match against the Rock.

I didn't like most of the show. Out of all the matches, they had to screw RVD/Kane. Jeff gets real heel heat from me for that.

I don't see a true push for Booker T. I don't see him beating Batista.

Steiner can't even drop an elbow correctly.

Dr Unlikely
Liverwurst



Since: 2.1.02

Since last post: 63 days
Last activity: 1 hour

#29 Posted on
RIP Goldust (1995 - 2003)

So here's what I really liked - the Michaels/Jeff Hardy segment was hilarious. Michaels was just so matter of fact about bringing up kicking Marty in the face and throwing him through a plate glass window as if it would somehow be good advice for Jeff Hardy. And the bonus sound effect on the kick, that's good stuff. I don't know how it's supposed to help Jeff Hardy as a heel, but I don't care, it was funny. If Jeff wants to be a good heel, they can plant a fake kid near the rail and Jeff can intentionally step on his hand when he does the railrunner or something.

Booker and Goldust were, once again, great in their heart-to-heart segment in the ring. It sucks that they didn't have them as champs longer and didn't have any real build for this return to Goldust's insecurity (didn't they just beat 3 Minute Warning?), but it was another case of the two of them really stepping into their characters and playing their parts well. I wish everbody on Raw had that kind of determination and understanding of who they're supposed to be. It was also cool to see them bring the crowd back to life during the match. Too bad the end was so out of nowhere and it was yet another week where, right after the two of them got the crowd back into the show, they had to lose and killed the crowd again.

I also like Lance Storm's subtle rebellion against the no pants edict. Slowly but surely, he's making his boots and kneepads so big that they'll be like surrogate pants. Well played, old friend.

Jericho busted his ass in that main event. It was odd to hear the crowd almost cheer Jericho when he had Steiner in the walls and then clam up when Steiner got the win. Like the tag match, I think people were expecting the given outcome, they just weren't expecting that to be the actual finishing sequence. Maven and D-Lo's match ended kind of abruptly, too.

Oh man, Evolution. Is there some way to refer to Lancelot Link, Secret Chimp and his band The Evolution Revolution? Or to at least find the old post on this board where I got to use "Unfrozen Caveman Wrestler" for HHH? I'll be right there, Google!

"Flair, everyone knows that you're the greatest wrestler whoever lived. And now I am, too! Only better." He should dye his hair white and start making Flair dress in hobo clothes. And make them sign Steamboat for a match.

They have to be running out of ways to do two minute matches where the Dudleys are screwed, right? Please? Both of the tag programs they have going have weekly finishes that can only turn the crowd off. And it doesn't help when you only have a match and a half in the first hour for the live crowd to begin with.

The Bischoff hunt for Austin was a mess and took forever, but they could have easily saved it if they revealed that every person Bischoff talked to was actually Austin in disguise. Just like Don Knotts when he was on Scooby Doo. When Bischoff left Buford at the Stone Cold Alamo (Austin was in the basement), we should have seen Buford pull off a mask to reveal Austin. The old lady in the first bar? Wig comes off, it's Austin. In the last bar? He was the pool table. Also, the limo driver was Austin. DTA, man.

Well, Goldust is dead. I guess that's better than him making a turkey with his hand. Does this set up Booker vs. HHH, or does it set up Booker/Goldust vs. Orton/Batista? I'm actually wondering that, because I don't know what they're thinking. Either way, Orton needs to write a goodbye song to Goldust so he can win a Teardrop Award. Maybe Goldust really is dead, and his spirit got absorbed into the electrical energy so next week, he can turn his electrons into an image on the Titantron and say goodbye to Book forever. If he's still alive, though, I'm hoping Booker feels bad for him and brings in Nathan Jones (who's just looking for an honest job, mate) to be his new partner. And whenever Booker isn't around, Jones beats the crap out of Goldust. But Goldust doesn't want to sidetrack Booker from singles greatness, so he claims he just fell down a flight of steps or walked into a door. Male soap opera, man.

If they still have the time counter for Bischoff on next week's show, is there a chance they could go to it everytime they cut to commercial, like on "24"? That would go in the plus column.

I want Austin back. It's going to kick-ass. Hurry up already, time.
redsoxnation
Scrapple



Since: 24.7.02

Since last post: 1815 days
Last activity: 1815 days

#30 Posted on
Some thoughts from RAW:

I have to find the SAP button on my TV for next weeks RAW, because its better than listening to Lawler and Ross.
Test in the opening interview. Never a good sign.
I have to disagree somewhat on Bischoff through Texas. Sure, it was long and boring. But, when Bischoff paid a C-Note on a 2 dollar beer and let them keep the change, did anyone else think: Gold Club. Unfortunately Eric, the two waitresses won't be visiting your wife with lesbian lap dances.
The reason for Flair in the Evolution is to speak on the mic. Thus, just let him do all the talking.
Kane/RVD match would have been a nice opportunity to turn one of them heel. Seemed like they were ready to when RVD faked the injury. Then, they throw Rainbow Bright boy out there for the non-finish.
Speaking of Rainbow Bright. Since stealing old ideas is in vogue these days, steal an idea from Florida in the 80's combined with a WWF/E idea from the late 80's. Much as Kevin Sullivan convinced Mike Davis he was Dusty Rhodes, and Slick convinced One Man Gang he was black, have Teddy Long convince Jeff Hardy that he is actually Booker T.
Scott Steiner is now AWA dying days level boring.
Just please don't have Goldust seek his revenge as the Midnight Rider.


---

Bringing the French along in a war is like bringing an accordion along when you go hunting. All it provides is useless noise.

hansen9j
Andouille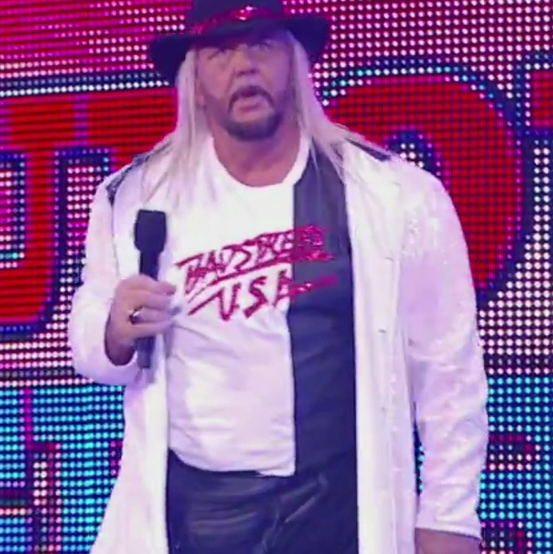 Since: 7.11.02
From: Riderville, SK

Since last post: 14 hours
Last activity: 1 hour

#31 Posted on
Originally posted by Lexus

---

Jeff Hardy pushes RVD off the turnbuckle, then slaps Kane? If the schmuck had thought to remove the mask, Kane would've run off and RVD would have sold being tossed long enough for an impact move.

---


Or he could have let RVD do the 5*, since both Rob's opponent AND Rob always sell it like death, and Jeff could have then taken advantage of them as much as he wanted.

...

That sounded cleaner in my head.

But I was totally digging Jericho against Steiner. I thought he was saying "I'm king!" instead of "Assclown" or "Ask him", but all would be awesome. Hooking Hebner's arm to prevent the overhead was beeyootiful too. I'm pissed I missed the start, because I love Christian in a totally hetero kind of way, but I'm not too sad about missing him get his ass kicked by a man I'm ashamed to call Canadian.

Woo-hoo! First post ever!


---

Da moon rulz! #1!
ScreamingHeadGuy
Frankfurter



Since: 1.2.02
From: Appleton, WI

Since last post: 2084 days
Last activity: 2084 days

#32 Posted on
I'm so "eh" that this show doesn't GET a Fashion Report.

Frankly, the first hour stunk. The second hour was better, except for the crap that was "Bischoff Lost in Texas". The BookerDust break-up was nicely done, but I was surprised to see Goldie later in the show, after Earl had said he went to his hotel room. I didn't even bother watching the MainEvent, 'cuz Futurama was on.

Overall: Eh. There has been worse, but there has been better. More actual wrestling would've helped the first hour (two matches only).


---
Fashion Reporter Extraordinare

Thhhor tries to explain economics to SPP, but he doesn't use the phrases "freaks and peaks", "boomshakalaka", or "booty daddy" so SPP can't understand him.
Ringmistress
Lap cheong



Since: 15.1.02
From: Philly

Since last post: 4010 days
Last activity: 4010 days

#33 Posted on
Honestly, RAW was okay, but not great. There was lots of talking, for sure, but Bischoff was funny trying to hang with the locals, especially Austin's lawyer? Buford (see my post in "Bischoff's Trip to Texas"). Um, there was some stuff that I admit took me by surprise, BookerDust's end, CrispyDust with Batista and Orton, for example. Yes, when the WWE is on (excluding that month last year that dare not speak it's name), I can still be a naive mark until the day I get the chance to pee on their grave. A look to the future kind of RAW, and the future will hopefully not turn out to be like the recent past. If it does, by this time next year, I'll have collected enough urine to fertilize the soil.

Ringmistress


---

Proper planning prevents piss poor performance"
William Regal

Learn it and live it, Vinnie Mac!
Net Hack Slasher
Banger



Since: 6.1.02
From: Outer reaches of your mind

Since last post: 4925 days
Last activity: 3345 days

#34 Posted on
This Raw was easily the worst of the 30 day warning. Way too many slow spots, the first 45 minutes was very sluggish. It did pick up during the half way point of the show.

-Test/Stacy interview- If you picked Test and Stacy in an interview in the first segment pool. Then that's some guess. I actually think all involved did a good job. Stacy played innocent and forgiving and just wants an apology. Her tough boyfriend demands it. Jericho comes out and acts like a total jerk "Get over it" Lol. Christian attacks Test while wearing a feminine shirt with strings to show his bosoms (doesn't Trish wear those sometimes?). Knock Test and Stacy down, they both come up and hug and the DC crowd Boos?

-3MinuteWarning vs. DudleyBoyz- Rico special ref. and cheated. I did like the fatman legged moonsault was sick and scary as hell and dangerous to match. It looks like they are setting up a 6 man tag for the PPV? Spike works more PPV's then Raw's

-Evolution interview- A not so wise man once said OUT with Evolution IN with Revolution. I still don't know what that means but HHH career is reminding me of Shane Douglas career every single day with the sudden drop off in every aspect of the "game". Maybe HHH should wait until he's not limping around like an old man when claiming every man wants his body, now where's his walking cane. Umm I enjoy being able to walk a flight of stairs H... BTW wasn't Dreamer a heel for his heelish acts on those poor TE kids last week, why is he getting attacked 4 on 1 by heels this week?

-Victoria vs. Molly- Molly outfit is interesting, I think I like it. Man did they really put poor Molly out there cold, even though she got some great offense and a real fun 3 minute match but putting her out there characterless without even a promo made her look like a jobber. I don't know how they expect the fans to take to her just putting her out there, hopefully this is a start of something for Molly... As for Victoria and Jazz, that was some interesting stuff there, there reaction to each other along with Stevie was really strong. I'm just cautious of turning either of these cool character into an all out or even pseudo face right now.

-Regal/Storm vs. BookDust- Great prematch talk by Booker and Goldie, how Goldie was being serious and Booker like "okay whatever we are going to win this match anyways, so lets go!". I thought this was a very good match, it wasn't stand out or anything but very good. Mostly because I really love BookDust and was cheering for them hard. Love the ending of BookDust crashing heads, which is a pure blame game ending but it didn't Booker asked Goldie to come back in and had a real nice send off.

-RVD vs. Kane- I really enjoyed this match was well. Kane played up heel early with a kick in mid R-v (kick). Fun match they were going into each other pretty good. I like King and JR discussing if this team is on the same page. JR thinking this is a one time fight, King thinking they are at odds. RVD got heel heat for faking an injury WTF, RVD, heel reaction!. RVD goes to the corner to set up a 5Star splash and "SQUEALS". That's an odd reaction. NO IT'S NOT IT'S JEFF HARDY "squeals" and he's being heelish "squeal". Nice bitchslap on Kane. Chockslams Hardy and an amazing change of direction 5Star by RVD.

-Shawn/Jeff interview- Jeff taking a nap in the ring, then Oh Shawn SHAWWWN! comes out, they old Shawn would have dry humped him but not the new Shawn. He's mature and tries to give him some good advice. In being a heel jerk (What?). Actually a pretty good speech by Shawn. The Kid wants to make a statement NOW but gets met with some sweet chin music, with Shawn then removing some of the crap on Jeff's body/face off his boot. This was a great segment.

-D'lo vs. Maven- I can't really figure out if Maven is over or not, he comes out to a nice babyface pop but once the match starts it's silence. It didn't help that D'lo was totally unover this week as well. It was a nice match. It was a nicely planned match, Maven hit some sweet spots and moves. The crowd was ultra quiet for this match which hurt.

-Steiner vs. Y2J- What a lug Steiner is. Simply pathetic. Y2J is amazing, he's so good at this stuff because he knows how to do all the little psychology stuff that can keep you interested even during a bad match. He did it with his one match with Hogan and he did it this week. But back to Scott every single one of his wrestling moves look scary as hell and inches away from injuring someone. And his punches look as forceful as Terri's punches. Him selling the surfboard was so bad it was funny, the look on his face wasn't struggle or pain he had the look that I have when at the checkout stand at the grocery store wondering if I got everything... Back to Jericho amazing, work in using the ref to stop moves, great aerials, amazing taunting. The only fun think Steiner did was after he hit the steel steps he said "Ow!" which I laughed out loud on. Well the finish looked cool even though dangerous

-otherstuff- I liked the interaction between RVD & Kane. "You lost your mask and you had to leave me or what are you spiderman? is there powers in your mask"... Steiner is going to beat Jericho because he's got big muscles, 1980 just called also... Goldust getting electrocuted was lame but saved with Morley having it to explain it to Bischoff. Lol... Vince came in and made Morley admit that this show wasn't that good, (atleast their honest). But sir the last two weeks were fine did you watch?

Wouldn't it be something if that guy who answered the door is Austin, we haven't seen him in 9 months he might have gotten pregnant... Bischoff running around Texas wasnt' that interesting, Lawler's commentary was funny making fun of the women. "There are 2 dogs tending bar" and "What would Austin do in those bars, it's definitely not for the women". I guess Austin hangs out where the women aren't tempting

Line of the night: Steiner after hitting the ringsteps "Ow"

Sign of the night "Fire Steiner"



(edited by Net Hack Slasher on 4.2.03 1806)

---

Oh they have the internet on computers now!
mountinman44
Sujuk



Since: 8.5.02
From: San Diego, CA

Since last post: 2587 days
Last activity: 902 days

#35 Posted on
This is the first RAW that hasn't put me to sleep in a few weeks, but I think the 44oz Coke I had with dinner deserves the credit.
Jericho was classic once again. He's going to end up geting Test at NWO, but he carried Steiner big time. He'll carry Test at NWO, and he and HBK should have a solid match at WM. How many other guys can carry three separate feuds?
Speaking of HBK, that was on wicked Superkick on Rainbow Bright Hardy. I wish they would force Hardy to take some time off.
I know I'm in the minority, but I still mark for the Dudleys putting guys through tables and the 3D. It's just the mark in me. 3MW is just bad.
Once that kid started laughing, I knew Bischoff was going to clock him with the mug. I thought the "I'm looking for Austin" segments were pretty effective, although they probably could have done without one of the bar ones.
Goldust and Booker T have easily been the most entertaining thing on RAW for several months, but it was time to break them up. I will go against the grain and say the will not lead to a title run for Booker though. He's going to be jobbing to Dave and Randy for the next couple of months.
Overall, I thought it was a solid show, but there is still much to do. No Way Out looks like it will be a dud from the RAW side again.



---

Tampa Bay Buccaneers -- 2002 NFL Champions... feels good, doesn't it?

"The NFL should permanently move the Super Bowl here." -- Al Michaels, ABC Sports, during the Super Bowl
PowerPB13
Sujuk



Since: 25.4.02
From: Belleville, IL USA

Since last post: 6 hours
Last activity: 3 hours

#36 Posted on
Why people go into WWE shows expecting chicken salad from a company that's fed them a steady diet of chicken shit for the past two years is beyond me.

There's only one way to watch WWE nowadays: With insanely lowered expectations. I know the storylines are gonna suck, I know Triple H is gonna be on top forever, I know my favorites aren't gonna get the pushes they deserve...so I'll just take what I can get out of it, a couple of decent matches and the occasional entertaining angle or promo. That's all I expect out of them any more.

-Patrick

(edited by PowerPB13 on 4.2.03 1608)
Lawrence Musso
Loukanika



Since: 1.2.03
From: Yorktown Heights, NY

Since last post: 5608 days
Last activity: 5568 days

#37 Posted on
Personally I thought Raw was horrid yesterday. Under 5 minutes of wrestling in the first hour is just inexcusable.
Test showed the most fire I've seen him show ever, but I really think he needs to just go by Andrew Martin and drop the Test name. The Women's Division is the only thing I really look forward to on Raw, and thats a bad thing. The fact that Victoria, Trish and the Gang are the most entertaining thing on Raw is saying something. Jericho does nothing for me(Pauses for the Boos) - He needs to become more serious and act like a crazy heel, I mean what the hell is a damned Ass Clown anyway? I love Booker T but don't really have any faith in the company pushing him, but here's hoping they prove me wrong, and everything else on Raw is just crap. I usually try to not let the Internet's opinion sway me one way or another - as you can see by my liking of Triple H(in small doses) and indifference towards Jericho. It seems to me like nothing can save Raw right now - Triple H needs to become a vulnerable champion, and thats the only way the Evoloution will be effective, and as much as I respect the mans guts, I just know thats not going to happen. I hope that the company can turn around - Through the years I witnessed the New Generation, the bakruptcy of ECW, and the black note on wrestling that we called WCW and right now the WWE seems to be doing all the things that were wrong with the three era's I've just mentioned.

Well I'm beginning to ramble - so I'm just going to stop it there...maybe I should start writing a column? *L*



---

==========
Lawrence Musso - The Sign Guy of Weinerville
Teppan-Yaki
Pepperoni



Since: 28.6.02

Since last post: 2273 days
Last activity: 2243 days

#38 Posted on
Karlos -- Buford/Ralphus - HA~!

That whole Bischoff thing reminded me of the WCW search for Cactus Jack, btw. No payoff, either.

Jeff Hardy will *never* be over as a heel because he can't promo worth crap. Matt as a face couldn't either, in the start, but he's been preeeety damn good lately.

I thought I was seeing a flashback from Dragon's Lair with Goldy getting electrocuted.

Dr. -- Lancelot Link drop... sweet.
That show ruled.

I will give credit to Lawler; his line about Molly and Stevie Nicks' wardrobe was pretty good. Also, I would have thought that you could angle Victoria and Jazz fighting over Stevie... but that hasn't happened yet. *That* would be comedy gold right there. I also find it funny that you have two very good technical women wrestlers, yet it was short compared to the Trish matches. Oh well.


---

"We had four couples, eight questions, a refrigerator and that's it."
--Chuck Barris, talking about The Newlywed Game on LIVE! With Regis and Kelly
Austin Bradshaw vs NWO 59
Cotto



Since: 26.6.02

Since last post: 5040 days
Last activity: 5040 days

#39 Posted on
I guess Goldust is now the most electrifying man in sports entertainment.

Dustin will come back as the new SHOCKMASTER! Let's just hope he doesnt trip on the way out...

I have to admit though that I actially thought they would "Owen silence" the rest of the show as an excuse not to show the main event.




---

Flair: "Tonight, it's gonna be Austin, Bradshaw, taking on the NWO!

(Next Monday...)

Flair: I'm not trying to screw you Austin. Tonight, to show that I'm legit, I'll referre your match tonight when you and bradshaw take on the n..w..o!

(Next monday...)

Flair: You thought that was funny Austin? No one screws with the nature boy! tonight, it's gonna be you and bradshaw taking on X-pac and Big Show!

(Next Monday...)

Flair:That's it, you have pissed of the nature boy WHOOO for the very last time Austin!! Tonight I throwing your ass in a special tag match against the NWO. And your partner is gonna be.........Bradshaw!
Pages: Prev 1 2